Booth:

Roadtec
Group: Astec Industries, Inc.

MTV-1000D -
2 Pages
an Astec Industries Company The MTV-1000D material transfer vehicle, like the Shuttle Buggy® models, is capable of transferring while reblending paving material to allow for continuous in-line paving. The patented, offset gravity transfer provides reblending of asphalt materialsjustbeforetheyaredelivered to the paver, eliminating truck-end sgrgation. With an optional windrow attachment, the MTV-1000D can pick up material from a windrow and transfer it to the paver. MTV-1OOOD SPECIFICATIONS ENGINE CAT* C9-30O HP. Tier M. 6-cylinder diesel engine. 300 HP (224 kw] 9 2,200 rpm. Engine instrumenta驭tion mcJudes uclvTiour meter. oit pressure, voltage and emergency shutdown System. Easy accs* to ol cooler/radotor. OP诀RATOfl*S STATION: Operator positions on both sioes. Controi pane* swivete for use from either station atowing for same-lane or ac jacem- une opration from either sie Inside luming radius 21 (6.4 m). GRCXJND DRIVE: Four whecl nydrostatic drrve tor continuousfy vanaWe speed contre with two speed ranges. Electric over hydraulic shi黮t between working and transport ranges Mawmum speed (workjng range) 2 3 mph (37 kph) Maximum speed (Iravel range) 9.6 mph (15 4 kph). TIRES: High Notation -17.5' x 25' (4445 m x 635 mm). ELECTRICAL SYSTEM: Standard System includes heavy-duty 90-amp af-temator. 24-vofl staning System and circuit breaker protection of ail Systems. SUT CONVEYORS TRUCK UMOAOING (M): High-capacity truck untoading System with low deck height VT (28 m) skie tmc* opening and 22* (559 mm) o.d. x 8" (203 mm) deep Ni-Hard segmented corrverging auger for quick material fiow Conveyor has wel-on flights 5/8* (16 mm) thick T (178 mm) wde x 58* (1.473 mm) long. Ni-Hard llner plates are removable Power dump front hopper has a vibrator on the bottom tha helps keep materai moving. Hydraulic adiustabie push rofler ts standard, Conveyor capacity is rated at 600 TPH (544 MTPH ). PAVER L0AOIN6 (C-3): Conveyor swings 55 degrees to elther side of tenter. Maximum conveyor discharge height is 12' (3 7 m) fromgroundlev믩* ConveyorflightsweWedtothecham are 1/7 (127 mm) IWck. 4 3/4* (121 mm)wkleand3Cr (762 mm)long. Conveyor has1/F(12 7mm)500BHN bolted replaceable ftoor putes and doors. C-1 and C-3 conveyors have on/off centrons that are inleriocked. Conveyor capacity rs 600 TPH (544 MTPH), HOPPER INSERT: An optional mass-flow paver hopper msert is used to increase the hopper capacity of a conventional paver wtien used with tue MTV-1000D. CAPACITIES; Fuel tank........................................150 gai (568 L) Coofcng capacity.-----------------......«.13 gai (49.2 L) WEIGHTS (approxlmate): Shipping migtit.................50,500 IbS (22,906 kg) OPTIONS: Windrow attachment Hydraulic generator set Hopper insert Liflht package ® ASTE ____________ 800 MANUFACTURERS RD- CHATTANOOGA. TN 37405 USA-1.423.265.0600- FAX 1.423.267.7104 roadtec.com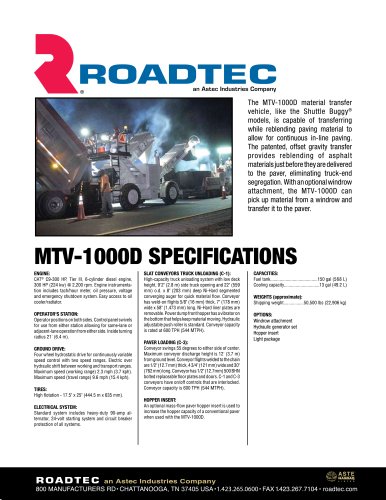 P. 2

SHIPPING WEIGHT: MTV-1000D - 50,500 lbs (22,906 kg)36'-11"(12.2m)12'12'-3" (3.7m)(3.73 m)11'0"(3.35 m)..................25'5"(7.75 m)10' 6"(3.2m)Max. angle28°Min....
Text version
All Roadtec catalogues and technical brochures
Archived catalogues