Booth:

RBC Bearings
Group: RBC
Heim Rod Ends -
64 Pages
Rod Ends, Sphericals, Rolling Element Bearings
Originator of the Heim Joint - an industry standard for over 70 years
Heim BearingsISO 9002AS 9000w w w. r b c b e a r i n g s . c o m8 0 0 . 3 9 0 . 3 3 0 0 >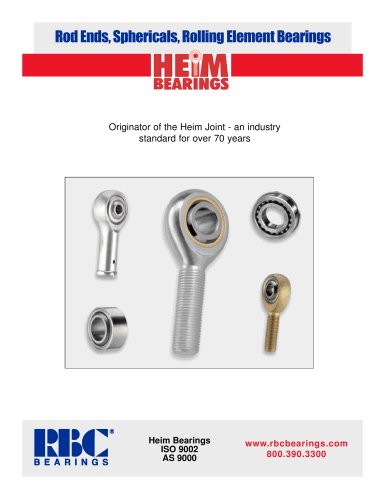 P. 2

RBC has had a long tradition of innovation, commitment, and qualitysince the company was founded in 1919. Today, RBC has grown into aworld-class manufacturer...

P. 3

TABLE OF CONTENTS Page No. Rod Ends Selection Guide 2-3HM, HF, HMX G, HFX G, BHM, BHFPrecision 4-7HM C, HF C, M CR, F CRCommercial 8-11CMHD, CFHDEngineered...

P. 4

mm: BEARINGS Rod End Grades_ Heim rod ends are offered in four grades: precision, commercial, aircraft, and military. Precision rod ends are manufactured...

P. 5

mm: BEARINGS • Best © Better Good ✓ Yes LOADING steel, heat treated to SAE-AMS-H-6875 (formerly MIL-H-6875), and...

P. 6

ihm: BEARINGS Precision Series Four Piece - Metal to Metal W H Si t O E B AU LUBRICATOR OPTIONAL A ...
Text version
All RBC Bearings catalogues and technical brochures
Archived catalogues