WILSON power solution -

11

/ 13 Pages
Excellence,
honesty,
Responsibility
Small enough to care,
large enough to deliver
Wilson Power Solutions is based on a unique customer and professional approach
that has grown out of years in the industry.
Our core values
Today, Wilson Power Solutions is managed by the third generation of the Wilson family
who like to maintain more traditional ways of doing business. Dedicated to helping customers find the best power
distribution solution for their individual needs, we are passionate about our expert knowledge and committed to
giving advice with our customers' best interests at heart.
We treasure our heritage and know that our hard-earned reputation for service excellence and superior product
performance has grown out of 65 years of experience in the power engineering sector.
Excellence
Give outstanding customer service, deliver
superior product performance, grow and
utilise expert knowledge.
Honesty & integrity
Advise with customers best interest at heart,
reveal product and technology limitations,
educate freely.
We advocate "old fashioned"
values like honesty, excellence
and responsibility.
Social responsibility
We believe in building lasting
partnerships with our people,
our customers, suppliers and our
communities, both locally and
internationally.
Richard Wilson buy and
sell electric motors and
starting equipment
Richard Wilson
started the company
rewiring cars and
providing general
electrical contracting
1946
20
Richard Wilson provide
reconditioned pumps
to the oil industry.
The company acquires
two small properties
and a storage facility in
Stanningley, Pudsey
1950's Late 1950's
and early 1960's
Dennis and Colin
Wilson, sons of
Richard Wilson, joined
the business. They
expanded the pump
business into ministry
contracts as well as
the oil industry and
were now doing some
international work,
extending the product
profile to flameproof
motors and equipment
1967
The 3 day week and
the sale of generators
create a cash injection
1973/4
Simon Wilson
joined the business
Extension of a transformer
hire fleet to cope with
overseas demand
Larger motors and
starting equipment up
to 2500kW provided
to oil refineries and
general industries
Bought and
sold the first
transformer
and medium
voltage
switchgear
1976 1978
Inspired through our well-established supplier relationships with
manufacturing companies in India, we have been continually
supporting the Rotary Club of Chennai Mambalam in their
grassroots level school projects.
Our contributions are being spent to set up or improve facilities such
as class rooms and school libraries as well as providing furniture and
textbooks for rural schools.
provide colleagues with a supportive
workplace, support local and extended
communities, committed to
sustainability principles.
A change of name: the
company becomes Richard
Wilson (Dencol) Ltd
Dencol Engineering Ltd
was formed
Supporting school children in rural India
Move to
Westland
Works,
Westland
Square, Leeds
1980's 1985
Power and
Distribution
Transformers Ltd
Started
manufacturing own
range of battery
tripping units
Sold the
first power
transformer at
12/25MVA to
Aggreko in
Sri Lanka
Employ overseas
companies to
manufacture
distribution
transformers
1989 1991
1993/4
Erika Wilson
joined the
business
Started
manufacturing
low voltage ACB
and pillar feeder
cabinets
Manufactured
a 30/40MVA
at 90kV/15kV
transformer in
13 weeks for a
company in Chad.
Manufactured 4
reactors as the main
power input to a
Russian oil field
1996 1997/8
Opened design
and tendering
office in India
Designed and
manufactured 6 X
30/40MVA, 132/33kV
power transformers to
NEPA Nigeria
Manufactured
containerised
switchgear
packages to Iraq
2003 2004/5
The Wilson e2+
is launched
The Wilson e2 super low
loss amorphous metal
transformer is launched
Wilson Power
Solutions Ltd
is launched
Leading supermarket
chains install the
Wilson e2 transformer,
utilities start testing the
technology
2006 2008/9
2011
21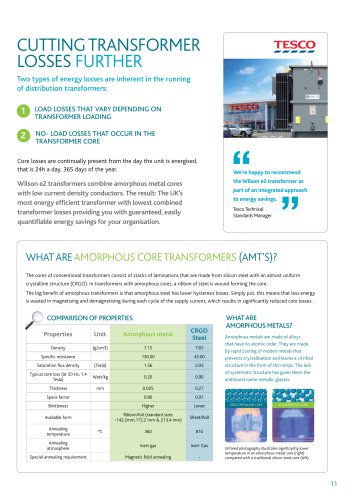 Text version
All Power and Distribution Transformers catalogues and technical brochures
TRANSFORMING POWER DISTRIBUTION

8 Pages
Archived catalogues
Wilson Power Solutions

16 Pages