TECBOND -
2 Pages
SHEET
iCBOND
Shaped Hotmelt Adhesive
the power to perform
Power Adhesives, the world's leading shaped hotmelt adhesive specialist, manufacture the largest range of high quality, competitively priced shaped hotmelt adhesive, for exclusive use in our industrial glue guns.
We only manufacture high performance hotmelt adhesive formulations suitable for many industrial uses.
These adhesives can be grouped into three chemical types: EVA (Ethylene Vinyl Acetate),
PA (Polyamide) and SPS (Semi-Pressure-Sensitive) adhesive.
EVA is the most widely used hotmelt adhesive and is suitable to bond a vast range of substrates, including carton board, softwood, some plastics, light gauge metals, ceramics and fabrics.
Polyamide adhesives are suitable for applications where a bond needs to withstand high and low temperatures. They are more chemically resistant than EVA adhesives and are often used in the electronics and automotive industries.
Semi-Pressure-Sensitive adhesives maintain a high surface tack for up to 6 minutes. They are used primarily with spray systems, such as the TEC 6300 pneumatic tool. They are ideal for covering larger areas and for use on heat sensitive materials.
Quality & Reliability: TECBOND adhesives are manufactured to exact tolerances, which vary according to the formulation. The size of the cartridge is critical to the safe & reliable operation of the TEC glue guns. Using nonstandard adhesives will create problems in these areas
To make it easy to identify and trace our high performance TECBOND adhesive, the sticks and slugs are printed with the formulation reference and manufacturing batch number.
Application Methods
Power Adhesives offer both bead and dot application systems, as well as a spray system.
BEAD/DOT: A continuous bead of molten adhesive is extruded from the glue gun, allowing the operator complete control over the spread, pattern and volume. It can also be applied in dot or puddle form
SPRAY: Molten adhesive is mixed with air as it leaves the gun nozzle, spraying adhesive onto the work surface. This method has definite advantages for some applications:
- It is more economical because less adhesive is used
- The adhesive can be spread over a wider area.
- It is suitable for heat sensitive materials that can be damaged by bead/dot application.
TECBOND QUALITY GIVES RELIABLE BONDING SOLUTIONS, DURABILITY, SAFETY AND EFFICIENCY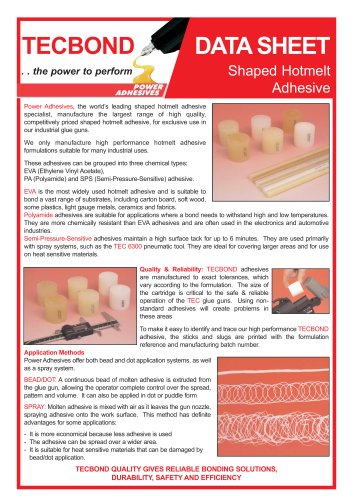 Text version
Archived catalogues
General product range

2 Pages