Booth:

Parker Racor Division
Group: Parker
Air Filtration -
36 Pages
TireSaver Nitrogen Tire Inflation Systems Customer Testimonials  Long Haul Fleet Owner "I don't have to waste time during routine maintenance topping off tires, just a quick check does it. It's a real time saver." "As a result of filling tires with nitrogen, we save about one half hour per PM for each truck" Օ Auto Transport Fleet Owner "With reduced blowouts, I have saved significant costs in fewer damaged custom automobiles and axles, brake systems and tie down rollers on my trucks"  Small Auto Transport Fleet "We reduced blow outs from 15 per month to just 2 by using nitrogen" Օ Chief of Police "Nitrogen eliminated an uneven wear problem we had with our vehicles" The portability of the Racor TireSaver allows truck owners and maintenance personnel to bring the nitrogen straight to any vehicle in a quick and safe manner. Nitrogen will help to extend tire life by reducing premature failure of tires. The causes of premature tire failure which are affected by oxygen include:  Rubber deterioration by oxidation Օ Rim corrosion  Under-inflation Օ Overheating  Pressure increase due to heat build up Օ Uneven wear due to improper inflation Tires are one of the primary costs of operating a fleet of vehicles. Tire costs include procurement, maintenance and the cost of blowouts. Savings of $31,250 per year based on a labor rate of $50 per hour and 250 work days per year, by inflating tires with nitrogen. Part Number Description N2 Flow @ 95% purity, 145 psig, scfm Maintenance Kit TS051-00BCB0 Portable w/ Auto Inflator 5.1 MKTS123 TS076-00BCB0 Portable w/ Auto Inflator 7.6 MKTS123 TS123-00BCB0 Portable w/ Auto Inflator 12.3 MKTS123 TS076-0000A0 Tank-mount Unit 7.6 MKTS123 TS123-0000A0 Tank-mount Unit 12.3 MKTS123 TS076-000000 Wall-mount Unit 7.6 MKTS123 TS123-000000 Wall-mount Unit 12.3 MKTS123 TS20F Cabinet Unit 19.9 MKTS20F* TS34F Cabinet Unit 34.0 MKTS34F* MTS06 Mobile Unit 6.0 MKMTS* MTS12 Mobile Unit 12.0 MKMTS* *For spcial order call Racor TireSaver Accessories f I Separators C02-2367 (1/4") F602-12EJQ/MY (3/4") Rubber Hoses B04-0400 (12') B04-0401 (24') B04-0407 (35') Nitrogen Storage Tank TS-30G (30 gal) TS-60G (60 gal) TS-120G (120 gal) TS-240G (240 gal) Digital Nitrogen Analyzer TS-02A Trolley Autoinflator TS89TRL-4 Wall Mount Autoinflator TS89XDB-G Plastic Caps (2000) B04-0190 Chrome Caps (500) TS-CHVC-B Replacement Chucks (4) B04-0357 35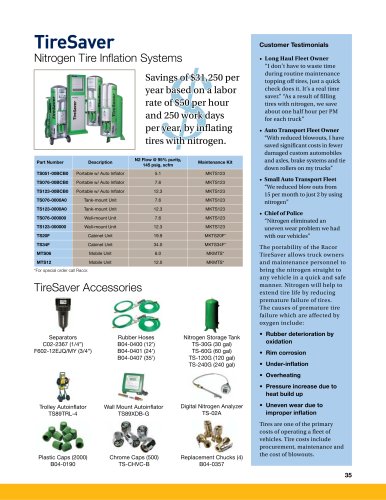 P. 30

EAF Sries Heavy duty equipment requires heavy duty engine air intake filtration. Heavy duty composite air cleaners are designed and built to meet the requirements...

P. 31

EAF Sries Air Cleaner Replacement Filter Guide Part No. Primary Safety EAF68110 EAPE68300 N/A EAF68111 EAPE68300 EASE68340 EAF68120 EAPE68310 N/A EAF68130...

P. 32

The CCV outlet is connected to the engine's combustion air inlet via an air intake connector where filtered blow-by gas is recycled through the combustion...

P. 33

Air Filter Replacements Racor offers direct replacements for the intake air filter operation of competitive air filters/ silencers. Also available is the...

P. 34

Filter Service Indicator "Filter Minder" Service Indicator is a prcision Airflow Restriction Gauge designed to take the guesswork out of air cleaner filter...

P. 36

c o Parker Hannifin Corporation Filtration Group Global Headquarters 6035 Parktand Boulevard Cleveland, OH 44124-4141 T 216 896 3000, F 216 896 4021 www.parker.com...
Text version
All Parker Racor Division catalogues and technical brochures