Booth:

Parker Racor Division
Group: Parker
Air Filtration Systems -
30 Pages
Open System Crankcase Filtration

Select a Fitting/Hose Kit:

Fitting/Hose Kits come with both fittings and enough hose for the inlet and outlet sides of the Racor CCV assembly. Racor CCV filter units require straight thread o-ring x hose barb fittings available only at Racor. In order to determine the correct application, you need to know the quantity and the outside diameter of engine breather(s) hose connection. Fitting/Hose Kits are available in various sizes and configurations. Consult factory or www.parker.com/racor.

High-efficiency, high-capacity open-cell foam filter.

A unique baffle design disperses gases throughout the full length of the media - improving efficiency and release of oil into the reservoir - maintaining a low pressure drop throughout an extended filter life.

Reduces NOx and hydrocarbon emissions by lowering combustion temperatures (closed systems only).

CCV30100, CCV40100, CCV50125, CCV50125

Specially-compounded, long-lasting seals.

Integral drain/check valve allows for periodic disposal of collected oil. For maintenance-free operation, valve can be plumbed directly to the oil pan.

Oil reservoir collects filtered contaminants.

Crankvent CV820 and CV1000 Systems trap diesel engine crankcase blow-by gases and recycle engine oil through a high-performance, open-cell foam filter. They help to decrease costs for maintaining air filters and keeping engine rooms clean. These units are typically used as an "open" system for non-turbocharged engines.

These are designed to be used with existing air cleaner to turbo rubber adapters.

All 18-8 stainless hardware

All 18-8 stainless hardware

Up to 350 HP (75-260 KW)1

Max. Cubic Feet per Minute

Part Number Hose

CCV55113 1" CCV55114 1 1/4" CCV55115 1 1/2" FIG.3

For use on naturally aspirated engine.

(1) Use of two or more filters per engine allows higher flow.

(2) The Crankvent CV1000 must be used in two-cycle engines with air box drain applications. Additional details are available in technical manual #7503 or please consult Racor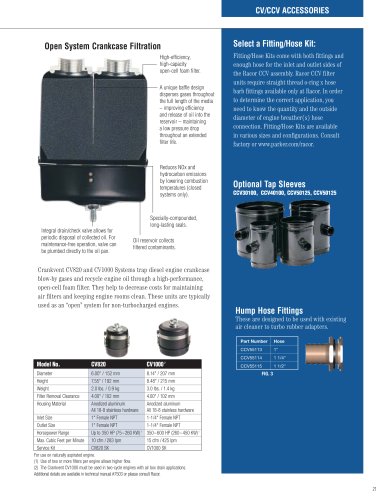 P. 20

AFUP SERIES On-Highway and Off-Highway Air Pre-Cleaners For Under-Hood Applications Air intake Static vanesOutlet pipe (to air cleaner)ClampTwo ball...

P. 21

CCV SYSTEMS Marine Air Filter/Silencers The engine crankcase breather isconnected to the inlet of the Racor CCVassembly. The CCV outlet is connected...

P. 22

CCV SYSTEMS The problem open and unfiltered engine crankcase breathers Environmental concerns and legislation to controlcrankcase emissions have increased...

P. 23

CCV SYSTEMS Racor CCV Systems In a robust, compact package, the patentedRacor CCV closed crankcase ventilationfilter systems provide superior oilcoalescence...

P. 24

CCV SYSTEMS Closed System Crankcase Filtration CCV1500 CCV3500 CCV4500CCV6000CCV8000 Height5.1" / 130 mm7.0" / 178 mm9.25" >/ 235.0 mm12.00" >/...

P. 26

AIR FILTER ELEMENTS Competitht Racar Dimensions fin) Part Number Part Number (DxKrO) orna IDiflxlO ...

P. 27

CABIN AIR FILTERS/AIR FILTER ACCESSORIES AIR FILTER ACCESSORIES Cabin Air Filters Filter Service Indicator Presently, 40% of all vehicles in use have...

P. 28

MORE FROM RACOR Fuel Filtration Racor Division wrote the book on fuelfiltration technology. Please call us at1-800-344-3286 ask for technicalservice...

P. 29

MOREFROMRACOR Aerospace Group A leader in the development, design, manufacture and service of control systems and components for aerospace and...

P. 30

Korea Brazil 135-080Phone:82 2 561 0414Fax:82 2 556 8187 Phone:+55 (11) 3917 1407Fax:+55 (11) 3917 7898 Parker Hannifin Korea Limited902 Dae Heung Bldg.648-23...
Text version
All Parker Racor Division catalogues and technical brochures