Booth:
OMEGA
Wireless Relative Humidity/Temperature Transmitter UWRH-2 -
2 Pages
UWRH-2, £111, wireless relative
humidity temperature transmitter,
Measures Both Relative shown actual size.
Humidity and Temperature
in One Unit
Free Software Converts Your
PC Into a Multi-Channel Chart
Recorder or Data Logger
Low Power Operation
and Sleep Mode For Long
Battery Life
Transmits Relative Humidity,
Ambient Temperature, Signal
Strength and Battery Status
in Real Time
Works with Any UWTC Series
Wireless Receivers and
Transceivers
transceiver model UWTC-REC2
wireless data from one unit can be
re-transmitted out of the receiver by
a wired connection as a analog
voltage or current signal to interface
with a controller, PLC or data
acquisition board.
Specifications
Temperature Range: -17 to 49ºC
(2 to 120ºF)
Accuracy: ±1ºC (±1.8°F)
Relative Humidity Range: 2 to 98% RH
Accuracy: ±2.5% RH from 20 to
80%RH; ±3.5% RH below 20 and
above 80% RH@ 25°C (76°F)
Operating Environment: -10 to 70°C
(14 to 158°F)
Computer Interface: USB (one
interface cable included with receiver)
Transmit Sample Rate: Programmable
from 1 sample/minute to 1 sample/every
5 seconds
Radio Frequency (RF) Transceiver
Carrier: ISM 2.4 GHz, direct sequence
spread spectrum.
RF Output Power: 10dBm (10 mW)
Range of RF Link:
Up to 90 m (300'): outdoor line of sight
Up to 45 m (130'): indoor/urban
RF Data Packet Standard:
IEEE 802.15.4, open communication
architecture
Software (Included Free): Requires,
Windows® 98, ME, 2000, XP, or Vista
operating system connector internal
Battery: One 3.6 V lithium, 2.4 Ah
capacity (AA) (included)
Battery Life (typical): (1 year) 1
sample/minute reading rate @ 25 (77°F)
Data Transmitted to Host: Relative
humidity, ambient temperature, RF
transmit strength and battery condition
Dimensions: 100 L x 50 W x 25 mm H
(without antenna) (4 x 2 x 1")
Weight: 70 grams (2.46 oz)
Case: ABS plastic
Omega's new Wireless Relative
Humidity transmitter features a
stand-alone, compact, battery
powered design that transmits
measurements back to a host
receiver up to 90 m (300') away.
When activated the wireless
transmitter will transmit readings
continuously at pre set time interval
that was programmed by the user
during the initial setup. Each unit
measures and transmits: Relative
Humidity Reading, Ambient
Temperature, RF Signal Strength
and Battery Condition to the
receiver and is displayed on your
PC screen in real time using the
provided software. When used with
host receiver model UWTC-REC1
data from up to 48 wireless
transmitters can be received and
displayed. Each unit includes free
software that converts your PC into
a strip chart recorder or data logger
so readings can be saved and later
printed or exported to a spread
sheet file. When used with host
Wireless Relative Humidity/Temperature Transmitter
UWRH-2
£111
Visit
omega.co.uk/wireless
for the latest features and
specifications!
AVAILABLE FOR FAST DELIVERY!
To Order (Specify Model Number)
Model No. Price Description
UWRH-2 £111 Wireless RH/temperature transmitter
UWTC-ANT-LR 6.70 Optional high performance antenna
UWTC-BATT 8 Replacement battery
UWTC-CABLE Spare programing cable
Comes with one 3.6 V lithium battery, programming software, measurement and logging
software, mounting bracket and complete operator's manual.
Ordering Example: UWRH-2, wireless RH/temperature transmitter, UWTC-REC1,
48-channel receiver and UWTC-BATT, spare battery, £111 + 157 + 8 = £276.
Visit omega.co.uk for more information on UWTC-REC1
3.40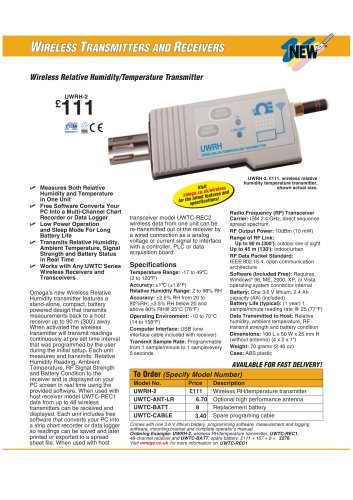 P. 2

Freephone 0800 488 488 | International +44(0) 161 777 6622 | Fax +44(0) 161 777 6622 | Sales@omega.co.ukwww.omega.co.ukMore than 100,000 Products Available!CANADAwww.omega.caLaval(Quebec)1-800-TC-OMEGAUNITED...
Text version
All OMEGA catalogues and technical brochures
Archived catalogues