Booth:
OMAX

OMAX Accessory guide -
2 Pages
Slat Support Replacement Kit
Contact Factory for Part Number
Complete kit to replace slat supports in the catcher tank.
Bulk Abrasive Feed System
Contact Factory for Part Number
Automatic pressurized bulk garnet feed
system that eliminates the need for
manually filling the smaller garnet feed
hopper mounted above the cutting head.
Provides over 12 hours operating time at
a feed rate of 0.750 lb./min. Standard
on Models 2626|xp, 55100, 60120,
80160, and FABRICATOR. Optional on
Models 2652, 2626, and 5555.
Coning & Threading Tool
for High-Pressure Tubing
Part #303647 – 1/4" tubing
Part #303648 – 3/8" tubing
A tool designed for creating a cone with
an angle on the end. The threading tool
is designed to put a left hand thread onto
the end of the tubing.
Slats for All Machine Models
Contact Factory for Availability
Set in the machine to support material
during cutting.
Tall Slats for FABRICATOR & 80160
Contact Factory for Availability
Tall Slats 9 3/4½ align with edge of table.
Designed specifically to fit Model
FABRICATOR JetCutting Center and
Model 80160 JetMachining Center.
High Pressure Tubing & Fitting Kits
Contact Factory for Part Number
Spare high pressure tubing and fitting kits. Replacement high pressure tubing and
fittings to run from pump to cutting head. Tubing comes coned and threaded.
Stainless Steel Cover Plate – 2626 & 2626|xp
Part #305311
Designed to protect the front and sides of catcher tank from scratches and wear.
Full package comes ready to assemble with 1 cover for front frame, and 1 cover
for side frame.
Stainless Steel Cover Plate – 55100
Part #305343
Designed to protect the front of catcher tank from scratches and wear. Full
package comes ready to install with cover plate.
Accessory Guide
A quick reference for easy ordering of accessories.
General Accessories
Solids Removal System (SRS)
Contact Factory for Part Number
Uses propeller technology and a ½ HP
Electric Motor running at 1725 RPM to
remove waste garnet at a rate up to
5.6 lbs./min. Designed to be used with
all OMAX systems. Provides the most
efficient garnet removal rate possible
and eliminates the need to shut the system
down to clean garnet from the tank.
Features stainless steel construction on
external portion of suction line, suction
line flushing, and a ¾ yard hopper with
replaceable plastic liner for ease of
dumping garnet. For moderate to high
volume usage.
Waterjet Brick: Brick Only
Part #202145
Plastic honeycomb is designed to support
thin material so that small pieces do not
fall into the tank. Made of long-lasting
material that will not de-laminate, allowing
for more cuts and greater savings.
Clamp Bar Spreader
Combination (Quick Grip)
Contact Factory for Part Number
Quick Grip clamps are used to hold
material in place during cutting.
Tank Safety Enclosure
See Factory for Part Number
Surrounds front, sides, and back of tank
to guard operators against overspray
resulting from abrasivejet process.
Available for Models 2652, 2626,
2626|xp, and 55100. Available with
and without safety interlocks.
Stainless Steel Cover Plate – 2652
Part # 305310
Designed to protect the front and sides of
catcher tank from scratches and wear. Full
package comes ready to assemble with
1 cover for front frame, and 1 cover for
each side frame.
Waterjet Brick Kit for Model 2652, 55100, 60120
Part #305138, 305137, 305728
Contains Waterjet Brick and support frame. Brick covers ½ of machine work area.
SRS Power Unit Sleeve & Bushing Replacement Kit
Part #304091
Complete kit for the maintenance of the SRS Power Unit Sleeve and Bushing.
The OMAX Technology Guarantee
entitles you, as the original owner,
to free OMAX software upgrades for
the life of the machine.
Printed in the U.S.A. *Specifications subject to change without notice. © December 2007 All rights reserved. PB-003. Rev A.
" The option to retrofit my waterjet
machine with newer technology is
a tremendous advantage. It allows
us to upgrade whenever possible
and not disrupt our production
schedule or budget."
Monty Grabner
Trulife
Poulsbo, WA
OMAX Corporation
21409 72nd Ave South, Kent, WA 98032
253-872-2300 tel 253-872-6190 fax
1-800-838-0343
www.omax.com
The OMAX Commitment: Superior
care before, during, and after the sale.
OMAX JetMachining Centers are sold through a well-established and
growing network of distributors, both domestic and international,
with representation in over 40 countries. Each distributor is carefully
selected to provide superior customer care before, during and after
the sale. Additionally, OMAX Service Technicians are available for
expert installation, training, maintenance, and repair assistance.
OMAX is strongly committed to innovation in the field of precision
abrasivejet machining. Our substantial investment in engineering
and R&D enables us to maintain the technology lead through
continued product development.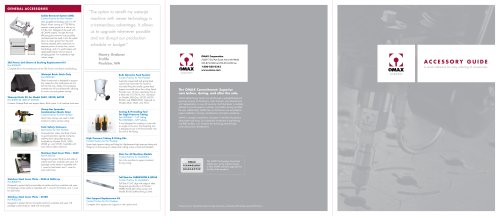 P. 2

Integrated MAXJET® 5 Start-Up KitPart #303491This cutting head, with built-in abrasivejetmixing chamber, enhances garnet flowand reduces component...
Text version
All OMAX catalogues and technical brochures
Archived catalogues