nsm -

6

/ 24 Pages
6
Energy as an aptitude. Anyplace.
NSM today
Share competences. Optimise resources.
Control energy.
Established in 1963 in Torrebelvicino
(Vicenza), Nuova Saccardo Motori (NSM)
is a successful company operating in the
electromechanical sector manufacturing
synchronous alternators, welders and
special electric rotating machines. In
2006 NSM joined the Amer network,
and consequently shares its ideals and
strategic choices.
The company's innovative designs for the
renewable energy sector has made it a
leader in the energy industry.
NSM recently inaugurated its new
premises in the industrial area of Schio,
Vicenza.
Compartir las competencias. Optimizar
los recursos. Controlar la energía.
Desde que fue fundada en 1963 en
Torrebelvicino (provincia de Vicenza),
Nuova Saccardo Motori (NSM) trabaja
con éxito en el ámbito electromecánico,
específicamente en la producción de
alternadores síncronos, soldadoras y
máquinas eléctricas rotatorias especiales.
A partir de 2006, NSM se incorpora en la
red Amer, con la que comparte los ideales
y las decisiones estratégicas.
NSM es una empresa líder en el
sector energético, gracias a proyectos
innovadores en el ámbito de las fuentes
renovables. Recientemente ha inaugurado
su planta de producción en la zona
industrial de Schio (provincia de Vicenza).
NSM history
1963
Viene fondata la
Saccardo, azienda elettromeccanica
di motori
asincroni standard.
Establishment of Saccardo, an
electromechanical company
manufacturing standard
asynchronous motors.
Se funda Saccardo, empresa
electromecánica que fabrica
motores asíncronos estándar.
1976
Inizia la produzione
di generatori con una
gamma di frequenze
da 50 a 400 Hz.
The company begins
manufacturing generators
having a frequency range of
50 to 400 Hz.
Se comienzan a producir generadores
con una gama de
frecuencias de 50 a 400 Hz.
1986
Assume la denominazione
e l'assetto
societario di Nuova
Saccardo Motori Srl.
The company changes its
name and company
structure to Nuova
Saccardo Motori Srl.
Adopta el nombre y la
organización societaria de
Nuova Saccardo Motori Srl.
2006/2008
NSM Generators ed Amer uniscono le proprie
forze. Nasce Amer Energy Network.
NSM si trasferisce nella nuova sede. Nascono
il Permanent Magnet Generator e la linea 4P
Brushless.
NSM Generators and Amer combine forces. Amer Energy
Network emerges.
NSM moves to the new production facilities. The Permanent
Magnet Generator and the 4P Brushless line are created.
NSM Generators y Amer unen sus fuerzas. Nace Amer Energy
Network.
NSM inaugura su nueva planta de producción. Nacen el generador
de imanes permanentes y la línea sin escobillas de 4 polos.
Condividere le competenze. Ottimizzare le risorse.
Controllare l'energia.
Fondata nel 1963 a Torrebelvicino (Vicenza), Nuova Saccardo Motori
(NSM) opera con successo in ambito elettromeccanico nella produzione di
alternatori sincroni, saldatrici e macchine elettriche rotanti speciali. Dal 2006
NSM è entrata a far parte del network Amer, condividendone gli ideali e le
scelte strategiche.
E' azienda leader nel settore energetico grazie agli innovativi progetti
nell'ambito delle fonti rinnovabili
NSM ha recentemente inaugurato il nuovo stabilimento nella zona
industriale di Schio (Vicenza).
2009
Nasce PMG-WG
Generatore a ma-
gneti permanenti
per applicazioni
eoliche.
The PMG-WG Permanent
Magnet Generator for wind
applications is created.
Nace PMG-WG
Generador de imanes
permanentes para
aplicaciones eolicas.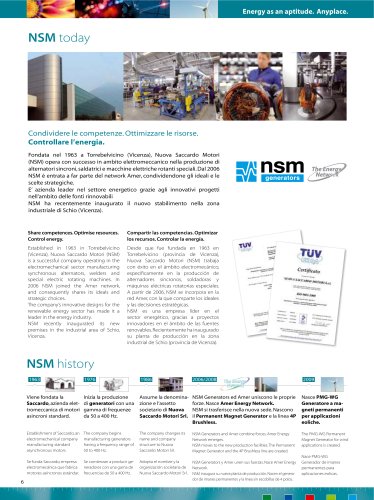 Text version
All Nuova Saccardo Motori catalogues and technical brochures
Archived catalogues
General catalogue

24 Pages