Booth:

Nord-Lock International AB
Group: Nord-Lock Group

Washers brochure - Product Information (Metric) -
16 Pages
Torque guidelines
Nord-Lock steel washers with zinc flake coating (Delta Protekt®)
Nord-Lock steel washers with electro zinc plated bolt grade 8.8
GTP600, GF=75%
0
0
µth =  ,08, µb =  ,15
Oil, GF=75%
0
0
µth=  ,10, µb =  ,16
Washer
size
Bolt
size
Pitch
[mm]
Torque
[Nm]
NL3
NL4
NL5
NL6
NL8
NL10
NL12
NL14
NL16
NL18
NL20
NL22
NL24
NL27
NL30
NL33
NL36
NL39
NL42
M3
M4
M5
M6
M8
M10
M12
M14
M16
M18
M20
M22
M24
M27
M30
M33
M36
M39
M42
0,5
0,7
0,8
1,0
1,25
1,5
1,75
2,0
2,0
2,5
2,5
2,5
3,0
3,0
3,5
3,5
4,0
4,0
4,5
1,3
3,1
6,0
10,5
25
49
85
135
205
288
402
548
693
1  10
0
1379
1855
2  94
3
3  87
0
3  20
8
Clamp
load [kN]
Torque [Nm]
2,4
4,2
6,8
9,7
18
28
40
55
75
92
118
146
169
221
269
333
392
468
538
1,2
2,8
5,4
9,5
23
45
77
122
185
260
363
494
625
910
1  43
2
1  69
6
2  56
1
2  77
7
3  39
4
Clamp
load [kN]
2,4
4,2
6,8
9,7
18
28
40
55
75
92
118
146
169
221
269
333
392
468
538
Dry, GF=62%
0
0
µth =  ,15, µb=  ,18
Torque
[Nm]
1,3
3,1
6,0
10,5
25
50
85
136
208
291
408
557
703
1028
1  01
4
1  89
8
2  36
4
3145
3  90
8
Nord-Lock steel washers with non-plated bolt grade 10.9
Oil, G F=71%
=0
=0
µth    ,13, µb    ,14
1 N = 0,225 lb
1 Nm = 0,738 ft-lb
GTP600, GF=75%
=0
=0
µth    ,08, µb    ,13
Pitch
[mm]
Torque
[Nm]
Clamp load
  kN]
[
Torque
[Nm]
Clamp load
  kN]
[
M3
M4
M5
M6
M8
M10
M12
M14
M16
M18
M20
M22
M24
M27
M30
M33
M36
M39
M42
NL3
NL4
NL5
NL6
NL8
NL10
NL12
NL14
NL16
NL18
NL20
NL22
NL24
NL27
NL30
NL33
NL36
NL39
NL42
2,0
3,5
5,6
8,0
15
23
33
46
62
76
97
120
140
182
222
275
324
387
445
Nord-Lock steel washers with non-plated bolt grade 12.9
Bolt
size
Washer
size
GTP600 = graphite lubricant
GF  =   atio of yield point
r
µth  =   hread friction
t
µb  =   asher friction
w
Clamp
load [kN]
0,5
0,7
0,8
1,0
1,25
1,5
1,75
2,0
2,0
2,5
2,5
2,5
3,0
3,0
3,5
3,5
4,0
4,0
4,5
1,8
4,1
8,1
14,1
34
67
115
183
279
391
547
745
942
1375
1875
2526
3259
4203
5202
3,2
5,6
9,1
12,9
23
37
54
74
100
123
156
194
225
294
358
443
522
624
716
1,6
3,6
7,0
12,3
30
58
99
158
240
337
470
639
809
1176
1608
2157
2788
3  88
5
4445
3,4
5,9
9,6
13,6
25
39
57
78
106
130
165
205
238
310
378
468
551
659
757
Oil, GF=71%
=0
0
µth    ,13, µb=  ,12
Washer
size
NL3
NL4
NL5
NL6
NL8
NL10
NL12
NL14
NL16
NL18
NL20
NL22
NL24
NL27
NL30
NL33
NL36
NL39
NL42
Torque guidelines for other bolt grades are available through your local Nord-Lock representative.
9
GTP600, GF=75%
=0
=0
µth    ,08, µb    ,11
Bolt
size
Pitch
[mm]
Torque
[Nm]
Clamp load
  kN]
[
Torque
[Nm]
Clamp load
  kN]
[
M3
M4
M5
M6
M8
M10
M12
M14
M16
M18
M20
M22
M24
M27
M30
M33
M36
M39
M42
0,5
0,7
0,8
1,0
1,25
1,5
1,75
2,0
2,0
2,5
2,5
2,5
3,0
3,0
3,5
3,5
4,0
4,0
4,5
2,0
4,6
9,1
15,8
38
75
128
204
311
437
610
831
1  52
0
1533
2091
2  15
8
3633
4683
5799
3,9
6,7
10,9
15,4
28
44
65
89
120
148
188
233
270
352
430
532
626
748
860
1,7
4,0
7,7
13,5
32
64
109
174
263
370
515
699
887
1288
1761
2362
3053
3925
4866
4,1
7,1
11,5
16,3
30
47
68
94
127
156
198
246
286
372
454
562
662
790
908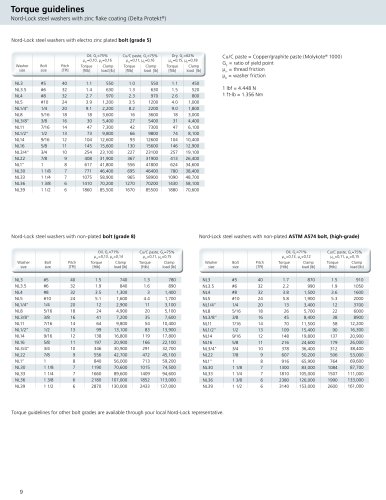 P. 4

Widely used &globally approvedNord-Lock washers are a high end products withdocumented success in many industries. Our washers areapproved by several...

P. 5

The key to efficient& secure operationsNord-Lock washers provide more than just a safe lockingfunction, using our washers also improves the generalperformance...

P. 6

Using Nord-LockwashersNord-Lock washers are easy and effective to use whileensuring structural security for applications exposed tovibration and dynamic...

P. 7

Nord-Lock washer material / type guideApplicationparameterSteelwashersStainless steel (ss)washers254 SMO ®washersINCONEL®/HASTELLOY® C-276...

P. 8

Nord-Lock steel washersEN 1.7182 or equivalent, zinc flake coating (Delta Protekt®), through hardenedDimension chartWasher sizeBolt sizeMetricNL3NL3,5NL3,5spNL4NL4spNL5NL5spNL6NL6spNL1/4"NL1/4"spNL8NL8spNL3/8"NL3/8"spNL10NL10spNL11NL12NL12spNL1/2"NL1/2"spNL14NL14spNL16NL16spNL18NL18spNL3/4"NL3/4"spNL20NL20spNL22NL22spNL24NL24spNL1"NL1"spNL27NL27spNL30NL30spNL33NL33spNL36NL36spNL39NL42NL45NL48NL52NL56NL60NL64NL68NL72NL76NL80NL85NL90NL95NL100NL105NL110NL115NL120NL125NL1308M3M3,5M3,5M4M4M5M5M6M6UNC#5#6#6#8#8#10#10M8M81/4"1/4"5/16"5/16"3/8"3/8"M10M10M11M12M127/16"M14M14M16M16M18M181/2"1/2"9/16"9/16"5/8"5/8"3/4"3/4"M20M20M22M22M24M247/8"7/8"1"1"M27M27M30M30M33M33M36M36M39M42M45M48M52M56M60M64M68M72M76M80M85M90M95M100M105M110M115M120M125M1301...

P. 10

Nord-Lock stainless steel washersEN 1.4404 (AISI 316L) or equivalent, surface hardenedEN 1.4404 is an austenitic chromium-nickel stainless steel containing...

P. 11

Nord-Lock 254 SMO® washersEN 1.4547 or equivalent, surface hardened254 SMO® is a high performance austenitic stainless steel (according to EN...

P. 12

Nord-Lock washers joint guideTapped holesNord-Lock washers safely lock the bolt against the underlying surface.Counter boresThe outer diameter of regular...

P. 13

Nord-Lock washers with enlarged outer diameterNord-Lock washers are available with an enlarged outer diameter,referred to as SP washers. SP washers are...

P. 14

Your partner inbolt securingThe Nord-Lock Group offers continuous support; fromdesign phase, testing and verification, through installationand maintenance....
Text version
All Nord-Lock International AB catalogues and technical brochures