Washers brochure - Product Information (Metric) -

4

/ 16 Pages
Widely used &
globally approved
Nord-Lock washers are high end products with documented
success in many industries. Our washers are approved
by several industry standards and specified by numerous
international companies.
Industries where Nord-Lock washers are used
Nord-Lock washers are used in industries such as: energy,
transportation, offshore, mining and quarrying, construction
and bridge building, manufacturing and processing, ship
building, forestry and agriculture, heavy vehicles, and
military. The number of industries that use Nord-Lock
washers is continuously growing.
Traceability
Nord-Lock washers are rigorously tested in all steps of
production to verify that the quality requirements are met.
Each batch is assigned a control number which ensures
full traceability and confirms that the washer is a genuine
Nord-Lock article. The control number is printed on the
package as well as on every washer pair, enabling full
traceability down to first assembly – even when using bin
systems for fastener supply.
Often joints do not start to loosen until an application is
in regular use, therefore Nord-Lock washers are commonly
retrofitted during maintenance, repair and overhaul
procedures.
Certificates & approvals
The most prominent of our certificates are:
• AbP (Allgemein bauaufsichtliches
Prüfzeugnis)
• DIBt (Deutsches Institut für
Bautechnik)
• DNV (Det Norske Veritas)
• EBA (Eisenbahn-Bundesamt)
• TÜV (Technischer Überwachungs-Verein)
Quality & environmental assurance
• ISO 9001
• ISO 14001
• Licensed by Dörken to perform Delta Protekt®
surface coating in-house
• RoHs, ELV and Reach compliant
• Full traceability
For more information or a complete list of certificates and
approvals, please visit our website or contact your nearest
Nord-Lock representative.
4
In 2011 we began to laser mark our products with the Nord-Lock
brand name, the control number and a type code for increased
traceability and to facilitate authentication.
Laser marking, type code table
Washer type
Code
®
Steel washers, Delta Protekt coating
Stainless steel washers
254 SMO ®
INCONEL® / HASTELLOY® C-276
INCONEL® 718
flZn
SS
254
276
718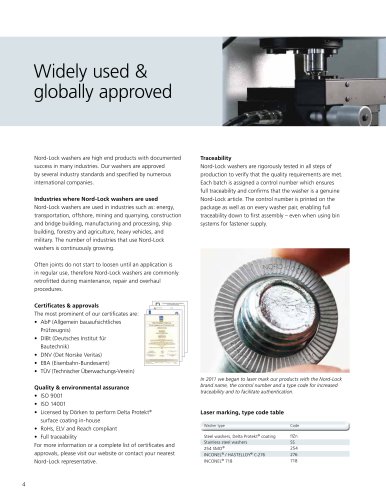 Text version
All Nord-Lock International AB catalogues and technical brochures