NELCO PRODUCTS -
67 Pages
NELCO cable tie products Identification Products National New Jersey Florida 800.346.3526 866.635.2660 800.899.8533 www.nelcoproducts.com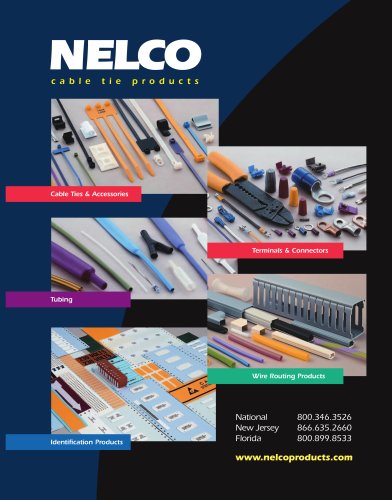 P. 2

At Nelco, quality and service go beyond conventional measures. For over twenty years we have delivered quality products and service, always with our 100%...

P. 3

IMELCO Products Incorporated ABLE OF CONTENTS CABLE TIES AND ACCESSORIES (PAGES 3 - 14) Material Spcifications 3, 4 5 6 7 8 9 Self-Lock Stainless Steel...

P. 4

TABLE OF CONTENT! Single-Wall Polyolefin Tubings . . . . Adhesive-Lined Polyolefin Tubings Spcial Purpose Tubings........ Heavy-Duty Tubings ...............

P. 5

NELCO Products Incorporated CABLE TIES AND ACCESSORIES Nelco Products has a full-line of quality cable ties in a wide variety of materials, colors, styles,...

P. 6

CABLE TIES AND ACCESSORIES FLAME RETARDANT APPLICATIONS Halar** Halar is similar to Tefzel in performance. Its outstanding characteristic is a lower smoke...
Text version
All Nelco Products catalogues and technical brochures