REMOTE ALARM™ - MODEL RA -
1 Pages
REMOTE ALARM™ - MODEL RA
Audible and Visual Alarm Component
Features:
• A loud audible alarm, 75 db at
2 ft./610 mm
• USER adjustable time delay of
0.1 to 10 minutes
• Simple push button switch
temporarily silences alarm
• Bright RED LED remains
clearly visible while alarm is
silenced
• Operates on safe 24 VDC
• Case is made of rugged ABS
plastic
• Compact size only
4.75 L x 2.56 W x 1.56 H in. /
121 L x 65 W x 40 H mm
• Wire lengths of 500 ft./152
meters have been tested with
no adverse effects
• Screw or adhesive mounting
option
Overview:
The Myron L Company's accessory
for our Monitor/controller line is the
Remote Alarm™. This remotely
mounted AUDIBLE and VISUAL
alarm connects to any Myron L
Company controller, or brand
"X" controller with dry contacts
(requires 24 VDC). When activated
by the controller the Remote
Alarm will provide both an audible
and a visual alert at a location
other than at the controller.
A mute button will silence the
Piezo alarm for up to 10 minutes
while the LED remains illuminated.
After the preset time the Piezo
alarm will again sound, this will
repeat until the water quality is
corrected. Thus allowing servicing
of the system under control, while
still acting as a reminder if the
problem has not been corrected.
Easy Installation:
1. Only 2 wires to connect from the
controller to the RA.
2. Set the time.
3. Mount on the wall or on the bench
Ordering Information:
Model RA: Order #RA
Optional: 200 ft./61 meters of 2
conductor insulated wire:
Order #RAW200
* Fixed timer available on SPECIAL
order: Contact us with set time, and
quantity for price quote.
Limited Warranty
The Myron L Remote Alarms have
a Two (2) Year Limited Warranty.
Warranty is limited to the repair or
replacement of the Remote Alarm
instrument only, at our discretion.
The Myron L Company assumes
no other responsibility or liability.
APPLICATIONS:
• Medical
• Process Control
• Reverse Osmosis
• Waste Treatment
• Conductivity / TDS
• Resistivity
• pH/ORP
• And many more ...
MADE IN USA
Water Quality Instrumentation
Accuracy • Reliability • Simplicity
© Myron L Company 2008 RADS 03-08
Built On Trust. Founded in 1957, the Myron L Company
is one of the world's leading manufacturers of water quality
instruments. Because of our commitment to product
improvement, changes in design and specifications are
possible. You have our assurance any changes will be guided
by our product philosophy: accuracy, reliability, and simplicity.
2450 Impala Drive
Carlsbad, CA 92010-7226 USA
Tel: +1-760-438-2021
Fax: +1-800-869-7668 /+1- 760-931-9189
www.myronl.com
Printed in U.S.A.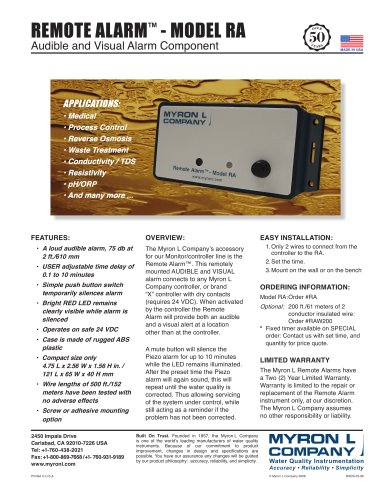 Text version
All Myron L Company catalogues and technical brochures