Booth:
Munters
MX2700 -
2 Pages
Model MX2700
Diagram measurements are for referenceonly.Scaled and dimensioned AutoCADdrawings are available in Munters
DryCap program. >
DehumidificationCapacity
Approximate capacity in kg/h at
different inlet process air relative
humidity, % RH.
Dehumidification capacity, kg/h 80% RH 60% RH 40% RH Miscellaneous data Operating temperature (C)-20/+40Max noise level unducted (dBA)78
Air filter standardG3IEC protective class (unit)IP44IEC protective class (electrical panel)IP54
MX (B) Electrical equipment,Terminal connection, remote controlStandardTerminal connection
general fault alarmStandard Width (A/D) Depth (B) Height (C) Dry air Wet air Weight 800/1695 mm 800 mm 1585 mm 200x300 100x300 380 kg >
0510152025 ږ100102030 Process Air Temperature, oC
Technical Specification Options
Process air Rated airflow (m/h)2700Available static pressure (Pa)300
ӕ Blocked filter alarm Rotor stopped alarm
Օ Remote control with separatecontrol relay Humidity control system with alarmand display Refer to the RH98 product data
sheetՕ Insulated process air inlet (whenprecooling) Pushing process air fan
Օ High capacity EU7 filter (processand reactivation air inlets) By-pass channel with damper andactuatorՕ Additional rotor section for lowdewpoints and/or heat recovery Reversible assembly for optional leftor right hand process air and
reactivation air connectionՕ Stainless steel sheet metal casing
Reactivation air Rated airflow (m/h)900Available static pressure (Pa)300 Total power,voltage and current (amps/phase) Total power (kW) Electrical35,38Total power (kW) Steam/Gas4,78
200V 3-50/60Hz (A) El.106,1200V 3-50/60Hz (A) St/Gas17,9220V 3-50/60Hz (A) El.98,3
220V 3-50/60Hz (A) St/Gas17,9230V 3-50/60Hz (A) El.94,6230V 3-50/60Hz (A) St/Gas17,8
380V 3-50/60Hz (A) El.56,7380V 3-50/60Hz (A) St/Gas10,2400V 3-50 Hz (A) El.54,4400V 3-50 Hz (A) St/Gas10,3415V 3-50 Hz (A) El.52,8
415V 3-50 Hz (A) St/Gas10,2440V 3-50 Hz (A) El.50,3440V 3-50 Hz (A) St/Gas10,1
500V 3-50 Hz (A) El.43,6500V 3-50 Hz (A) St/Gas8,2Steam consumption (g/s)14,51
Max steam working pressure (bar)7
Gas consumption (mӳ/h)3,12Natural gas pressure (mbar)18-30
Max sulphur content (ppm) HPS Rotor30 Subject to change without notice. DH/MEA/PGB-0028--08/12 size="-2">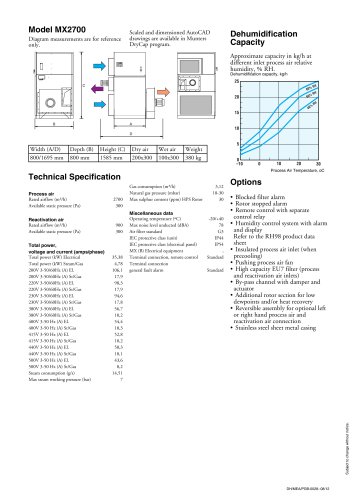 P. 1

PRODUCT INFORMATION > MX Series MX2700 Desiccant Dehumidifier Features -Dehumidifies efficient down to-20 C.-High capacity with very lowdewpoints.-Reactivation...
Text version
All Munters catalogues and technical brochures