Booth:

Miyachi
Group: Miyachi Unitek

Pulse Heated Thermode Selection Guide -

3

/ 4 Pages
17BW Multiple Lead Wide Blade Thermode
Thermode Material
W (inch) D (inch)
17BW1200 Stainless Steel, Chrome Plated 1.200
.060
17BW2187 Stainless Steel, Chrome Plated 2.187
.060
17BW2500 Stainless Steel, Chrome Plated 2.500
.060
Note: Mounts to 90RA and 180RA style heads.
• Application – Ideal for reflow soldering at operating temperatures
up to 600ºC.
• 1.2 to 2.5 inch length faces available with thermocouple feedback.
Special order other sizes.
• Stainless steel construction gives long life.
• Profiled blade shape for uniform heating.
• Integrated cooling air tube reduces cooling time and increases
throughput.
• Dual mounting system: fixed mounting hardware eliminates
movement for critical applications.
• Self aligning pivot type mounting hardware ensures that the
thermode face seats firmly against parts for optimum heat transfer.
• Custom sizes available.
The ability to withstand operating temperatures up to 600ºC makes the
wide blade thermode an ideal choice for reflow soldering ribbon cable
wires, covered with polyimide insulation, to printed circuit board pads.
17B Multiple Lead Blade Thermode
Reflow solder copper bus wire to circuit board pads in a single operation
using .220 wide blade thermode.
• Application – Use tips up to .220 inches wide for bonding
subminiature components to rigid substrates. Tips up to 1.00
inch wide can bond multiple fine wire and small ribbon cable
to rigid substrates.
• Long length-to-width ratio makes this thermode ideal for
reaching over components and into crowded spaces.
• Low cost etched construction with thermocouple feedback and
strain relief.
• Profiled tip ensures even heat distribution.
• J type thermocouple (K & E type optional).
Bond fine wires to circuit board pads using .770 inch wide blade
thermode.
Thermode
Material
W (inch) D (inch)
17BM070
Molybdenum
.075
.030
17BM180
Molybdenum
.220
.030
17BM360
Molybdenum
.400
.030
17BM770
Molybdenum
.810
.030
17BM870/30
Molybdenum
.870
.030
17BM1000
Molybdenum
1.000
.030
Note: Mounts to 50FRF, 50ARF, 87A and 87F style heads.
3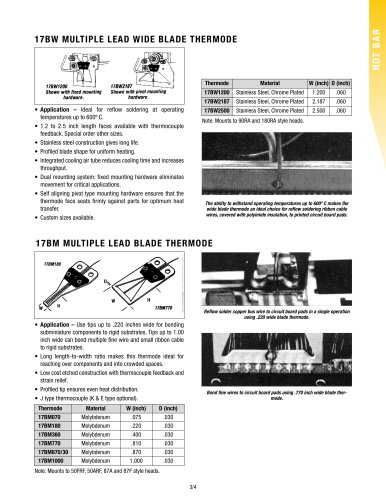 Text version
All Miyachi catalogues and technical brochures
Archived catalogues
AC Weld Control

2 Pages