Diaphragm Rupture Detection System -
2 Pages
MILTON ROY
DRDS
PD 4151
Effective 5/1/96
DIAPHRAGM RUPTURE DETECTION SYSTEM
mRoy A with diaphragm rupture detection
system including pressure switch.
GENERAL INFORMATION
Milton Roy's diaphragm liquid ends arc, by design, leakproof and durable. In some
applications, however, added assurance is desired to protect the pump from hostile
chemicals, or protect the process from contamination by hydraulic fluids. For these
situations, Milton Roy has developed a highly reliable diaphragm rupture detection
system.
This system is available for metallic liquid end mRoys, maxRoys, and Centrac or
Milroyal pumps with HPD liquid ends.
An alternate design utilizing conductivity sensing in an intermediate chamber be-
tween two diaphragms is also available for a number of liquid ends.
OPERATION
The system consists of two separate diaphragms, a hollow intermediate ring, and a
pressure switch and/or gauge. During normal operation, the two diaphragms are
pushed tightly together and are separated only around their outside edge by the
intermediate ring. Because there is no fluid and very little air between the two dia-
phragms, the system does not experience pressure from the process when both dia-
phragms are intact. The rupture detection system senses process pressure only
when one of the diaphragms rupture.
Once a rupture occurs, a pressure gauge provides visual indication, or an optional
pressure switch provides contact closure for remote indication.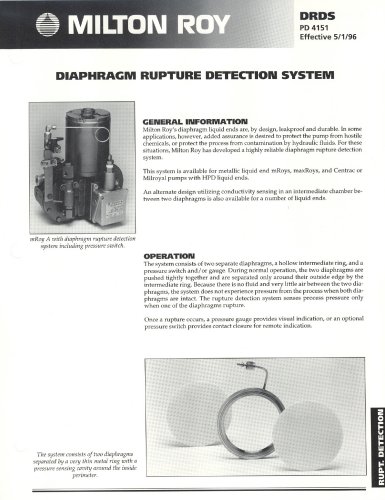 Text version
All Milton Roy catalogues and technical brochures
Archived catalogues