Booth:
MACCHI
Coes flex -
12 Pages
C automation, allow Macchi to provide
industrial logistic solutions for managing
the finished product ranging from
the palletization of the finished reels
to more complete product collection
and boxing systems, all controlled by
a dedicated PC to optimize the associated
functions.
Mandrel extraction clamp Mandrel extraction unit
Winder inlet cutting knives and automatic trim recovery system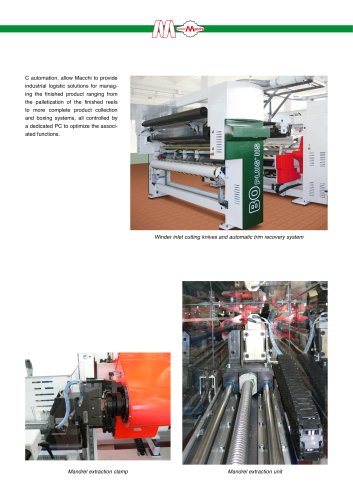 P. 4

13 120906 08070405101511010302021618 1410 Trim suction and conveying11 Fluff de-dusting and conveying12 Operator panel13 Containerized electrical plant14...

P. 5

17In the same vein as the blown systems,the co-extrusion unit is mounted on asingle raised technical platform in sucha way that the melt can be transferredvia...

P. 6

The Plastex extruders come with:• extrusion cylinders with special wearresistantcentrifugal bimetallic surface• screws with special barrier...

P. 7

12 3 45 6Layout of chill roll for the production of polypropylenethat can tend to form and solidify duringthe extrusion process.To obtain production of...

P. 8

The typical output of a cast linedemands a winding technology that isbest suited to the required production.This involves not only the typical physical-mechanical...

P. 10

As previously noted, the electrical equipmentis installed in a specially designedcontrols container that servesto optimize the space required for thecontrol...

P. 11

sor, dedicated to the product's profileand management of the extrusion lip.A heavy emphasis is also, of course,put on the electronics and associateddedicated...

P. 12

Il contenuto di questo catalogo serve solo a titolo informativo. Le specifiche tecniche e produttive garantite dipendono esclusivamente dagli accordi contrattuali....
Text version
All MACCHI catalogues and technical brochures