LMI Metering Pump Catalog 1883 -

3

/ 8 Pages
How AMetering Pump Works
LMIs solenoid-driven metering pumps are used for the precise injection of chemicals into a process or system. The mechanically actuated diaphragm design has only one moving part which is permanently lubricated. The simplicity and efficiency of this design results in a pump that consumes very little power,
enabling the pump to be totally enclosed in a chemically resistant housing for installation in the harshest environments. >
Durable Stroke Adjustment Mechanism Accurate Speed Control
Arigid stroke bracket and large stroke knob offer precise, repeatable performance and simple adjustmentover entire output range. Provides precise stroke rate and
a turndown ratio up to 1000:1 for
unmatched versatility. >
NEMA4X/ IP65 Housings Fully Encapsulated
Electronics
Totally enclosed, chemically resistant polypropylene
housing for the ultimate protection against corrosive
environments. Completely enclosed electronics provide protection against moisture, corrosive atmospheres and damage from vibration or mechanical
shock. >
EPU
LMIҒs Electromagnetic Power Unit (EPU) is
designed for efficiency and consistent performance
over a wide operating and temperature range. Multi-Function Valves >
Pump Status LED
The industry standard for
over 25 years, features
Fluorofilmdiaphragms for
long life and ramp style
knobs for ٓhands free prim-
ing with standard 3FV or
optional 4FV. The auto prime
valve option offers auto
degassing for pumping
chemicals prone to gassing. Status LED provides a
quick visual indication
of pump speed and operation. FluorofilmԙLiquiframs >
The unique manufacturing process
of LMI diaphragms ensures out-
standing chemical resistance and
flexibility for long life. Cartridge Valves >
Unique cartridge valves have
closely guided balls and triple
sequential valve seats for optimum
performance over entire pressure
range.
Variety of Liquid Ends
Awide selection of liquid handling
assemblies including PVDF, PVC,Acrylic, Polypropylene, 316 SS,and
UHMWPE. Configurations for viscouschemicals and slurries provide flexibility in all applications. >
Manual or External Control
Dual-manual control of speed and stroke length or external control by means of a 4-20 mAor pulse input for
flow proportional applications and system integration. >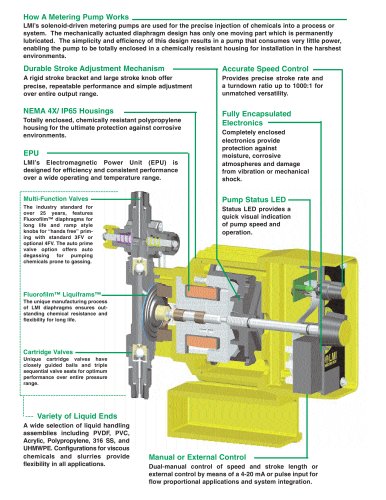 Text version
All LMI Milton Roy catalogues and technical brochures
Archived catalogues
LMI Controllers Brochure #1811

4 Pages

LMI Accessories Brochure #1951

12 Pages