Type series booklet CPKN -
16 Pages
CPKN
8
Dimensions and Connections
CPKN
CPKN-CH
c
a f y
DN1
DN2
10E/A
19E.2/A.2
24E/A13D
638
13B
g2
i1
16B.3 19A.1
w
l
v
19E.1
g1
6B 16B.1
h1
h2
2725:1/2
8A
Gland packing Single-acting mech. seal Double-acting mech. seal
D00243
19E.2
19A.2
24A
24E
16B.3 2725:2
Single-acting mech. seal
CPKN-S1
CPKN-C1/C1V/CHs
CPKN-C3.2
CPKN-C3.1
CPKN-S2
CPKN-E
EN 1092-2, PN 16 1)
EN 1092-1, PN 16
EN 1092-1, PN 25
EN 1092-1, PN 16
EN 1092-2, PN 25
EN 1092-1, PN 25
Flange design
1) drilled
CPKN CPKN CPKN CPKN-CH
shaft end
key in acc. with DIN 6885/Sh 1
y = clearance for dismantling without removing the motor
y = clearance for dismantling without removing the motor
CPKN / CPKN-CH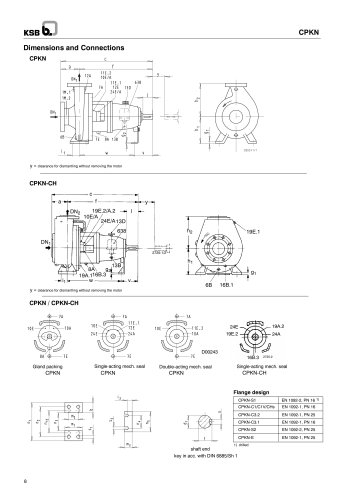 P. 3

Permissible pump discharge pressure in barTemperature of fluid handled in CS2 pump size 150-250 and aboveS2 pump sizes 32-125to 125-400Temperature of fluid...

P. 4

D00458Conical seal chamber (A-type cover) Model with open impeller (CPKNO) Heatable model (CPKN-CHs)Long service lifeof bearings andmechanical seals dueto...

P. 5

25-16025-20032-12532-16032-20040-16040-20050-16050-20032-25040-25040-31550-25050-31565-16065-20065-25080-16080-20080-250100-20065-31580-31580-400100-250100-315100-400125-250125-315125-400150-250Units...

P. 6

CPKN6Pump Size / Bearing Bracket CombinationsDis-chargeNominal impeller diameter BearingbracketnozzleDN125 160 200 250 315 400 500 504 506 630 670 71025...

P. 7

NN001717UUNN171717WWCPKN7Mechanical Seals Installed in CPKN Pumps(UP02 - UP06)Design MakeTypeunbalancedTypebalancedSingle- KSB choice A 3)acting Burgmann...

P. 9

CPKN9ConnectionsBearing bracketD i tiUP02 UP03 UP04 UP05 / UP06 P08s P10as / P12s escrpon1 M.1 G 1/4 G 1/4 G 1/2 G 1/2 G 1/2 G 1/2 Pressure gauge1 M.2...

P. 10

CPKN10General Assembly Drawing with List of Components411.32Model with .wet shaft.(without shaft protecting sleeve)D00462Conical seal chamber (A-type ...

P. 11

CPKN11When ordering spare parts, please always specify:Type series/pump size, works No. (stamped on the name plate and on the suction nozzleflange), motor...

P. 12

CPKN12Impeller diameter 504 and aboveImpeller connection on P08s

P. 13

CPKN13When ordering spare parts please always specify the type series/pump size, works No.(stamped on the name plate and on the suction nozzle flange),...
Text version
All KSB catalogues and technical brochures
Archived catalogues