Product Introduction Etanorm -
4 Pages
Automation products available:
PumpExpert
PumpDrive (MM)
Hyamaster
hyatronic
*)
Product Introduction 50 and 60 Hz
1211.1/16-10 G4 Etanorm/Etanorm-R
Standardized Pumps
Fields of Application
Water supply Cooling water
Fire-fighting systems Swimming pool water
Sprinkling Sea water
Irrigation Fire-fighting water
Drainage Brackish water
Heating Condensate
Air-conditioning systems Brine
Drinking water Oils
Service water Cleaning agents
Hot water
Fluid
Pure liquids not chemically or mechanically aggressive to the
pump materials.
Operating Data
Q up to 1900 m3/h, (528 l/s)
H up to 102 m
t -30C to +140 C
p2 up to 16 bar 1)
1) see pressure/temperature limits given on page 5 of type series booklet 1211.5/9-10.
Design
Horizontal volute casing pump, single-stage (pump size
125-200/2 two-stage),with power ratings andmain dimensions
to EN 733 up to DN 200 / extension Etanorm-R, with bearing
bracket, in back pull-out design.
Shaft with replaceable shaft sleeve/shaft protecting sleeve in
the shaft seal area.
Volute casing and impeller with replaceable wear rings.
Volute casing with integrally cast pump feet.
Bearings
Deep-groove ball bearings, grease-lubricated.
Shaft Seal
Mechanical seal to EN 12756 (Stanard for Etanorm, for Eta-
norm-R as option) or gland packing.
Designation
EN(-R) 40 - 160 43 (6238) G 10
Type series Etanorm
Pump size, e.g.
Actual impeller diameter - 100 mm, e.g. 143 mm
= (angular reduction of impeller vanes)
e.g. actual diameter 162/138 mm =
Casing material, e.g. JL 1040 2)
Shaft seal, e.g. mechanical seal Q1 Q1 X4GG
2) to EN 1561 = GJL-250
*) for Etanorm only
Accessories
Drive
Surface-cooled KSB-IEC three-phase squirrel cage motor
Winding: up to 2.2 kW: 220-240 V/380-420 V
3 kW and above: 380-420 V/660-725 V
Design: IMB 3
Enclosure: IP 55
Thermal class: F with temperature sensors: 3 PTC
resistors
Operating mode: continuous operation S1
or
surface-cooled three-phase squirrel cage motor as described
above, but West European brand to KSB.s choice.
Coupling
Flexible coupling with/without spacer sleeve
Contact Guard
Coupling guard as per EN 294.
Baseplate
Sectional steel / folded steel plate, fabricated sectional steel
for the complete unit (pump and motor)
in torsion-resistant design.
Certification
Certified quality management ISO 9001.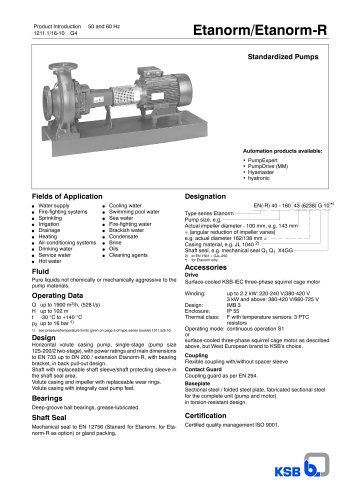 Text version
All KSB catalogues and technical brochures
Archived catalogues