Booth:
KSB S.A.S. - France
RPH – Heavy-duty OH2 process pump -
2 Pages
1316.025/01-10 / 02/09 / Subject to technical modification without prior notice / © KSB Aktiengesellschaft 2009
RPH – Heavy-duty OH2 process pump
to ISO 13709 / API 610
Materials:
S1, S5, S6, S8, C6, A8, D1, D2 and special materials
2
3
1
4
5
1 Low maintenance costs
n Customized balancing system depending on the duty point markedly reduces axial forces, and increases
bearing life.
n Double volute (DN 80 and above) reduces radial
thrust and prevents shaft deflection, considerably
reducing the loads on bearings and mechanical seal.
.2 Long service life of the mechanical seal
M
aximum shaft diameter as allowed per API 610 for low shaft deflection and reduced vibrations.
.3 Reduced operating costs
W
ith more than 70 hydraulics, always the best selection to API for a better efficiency.
.4 High flexibility
The pump flanges are available for all common
pipelines because they are built to all standards
up to PN 100 / ASME Class 600.
.5 Long service life and reliability of bearings
n Heavy-duty 40¢ª angular contact thrust bearing
exceeding the API requirements.
n Lubrication per oil bath, oil mist or oil purge.
6 No cooling water circuit required
When fluid temperature and ambient temperature are high,
the steel bearing bracket with integrated cooling fins and the optional fan impeller protect the unit from overheating.
7 Easy to service
M
echanical seals as per ISO 24109 / API 682 in cartridge design for easy installation and removal.
Technical data:
Pump size:
DN 25-400
Max. flow rate:
4,800 m3/h / 21,134 US gpm
Max. head:
285 m / 935 ft
Max. discharge pressure:
51 bar / 740 psi
Max. fluid temperature:
-70 ¢ªC to +450 ¢ªC / -94 ¢ªF to +842 ¢ªF
Max. speed:
3,500 min-1
7
6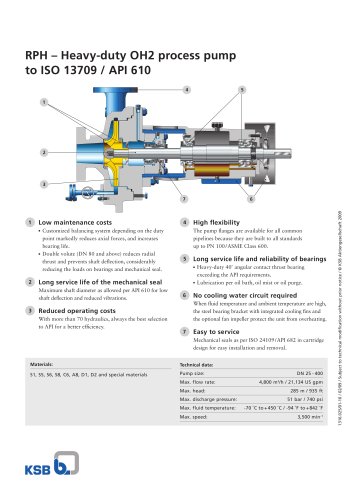 P. 1

Industry Water Waste Water Energy Building Services MiningPumps ¡ Valves ¡ SystemsRPH – Heavy-duty OH2 process pumpto ISO 13709 / API 610Applications:Oil...
Text version
All KSB S.A.S. - France catalogues and technical brochures