Booth:
Kawasaki Precision Machinery
K3VG Series -
34 Pages
Out of a Wide Variety of Our Axial Piston Pumps, We Introduce
Hydraulic components for Industrial Applications.
K3VG Series
Kawasaki Axial Piston Pumps Programs
for Industrial
Applications
for Injection
for Industrial Applications
Molding Machines for Industrial Vehicles
Open Circuits
Open Circuits
Single / Double Pump
Displacement
Single Pump
Open Circuits
for Industrial
Applications
for Industrial Vehicles
Open Circuits Closed Circuits
cm3
Open Circuits
Double Pump
(Tandem Type)
K3VL28
The K3VG series swash plate type axial piston pump is
high-pressure pump for industrial machinery with high
efficiency, reliability and low noise. Good varieties of
control methods are available as well as a highly
precise electro-hydraulic servo regulator "ILIS".
Single Pump
Closed Circuits
K3VL Series
The K3VL series pump is the swash plate type axial
piston pump designed for industrial machinery and
mobile corresponding to American (SAE), International
(ISO) and Japanese (JIS) standard mounting. The
horsepower control is possible in addition to loadsensing and pressure constant control.
Single Pump
LVP017
K4V45C
K3VL45
LZ LX-030
K7VG Series
K3VL60
K3V63DT
K3V63S
K3V112DT
LZ LX-060
K3VG63
K3V112S
The K7VG series pump is the swash plate type axial
piston pump designed for high-pressure application with
long life and low noise. This pump is especially suitable
for steel making plant and press machinery.
K3VL80
LZ LX-090
K3VG112
K3VL112
LZ LX-120
LZV120
K4V112C
NVH/K4V Series
The NVH / K4V series pump is suitable for application
to open circuit in injection molding machines and other
industrial machinery. In addition to high efficiency and
reliability it has features of stable and highly responsive
controllability and low noise.
NVH137
K3V140DT
K3VL140
K3V140S
LVP017
K3VG180
NVH172 NVH195
K3V180DT
K3VG180DT
K3VL200
K4V 270
K3VG280
K3V180DTH
LZ LX-260
LZV LXV260
K3V180SH
K3V280DTH
K3V280S
The LZLZV / LXLXV series pump is suitable for the
heavy duty application in the press machine and steel
making plants. The LZV / LXV series pump is long life
type with reinforced bearings. They can operate for long
periods of time under severe conditions: high-pressure
continuous drive, use of fire resistant fluid, etc.
K3V280SH
K3VG280DT
K3VG180DT
LZ•LZV/LX•LXV Series
LZ LX-180
LZV LXV180
K3VG 180
K7VG265
K3V180S
The LVP017 pump is a manual variable displacement
pump of super-high-pressure up to 49 MPa. It is suitable
for the high-pressure jack and the tunnel boring
machine.
LZ LX-500
LZV LXV500
K3VG280DT
K3VG Series
3
K3VL Series
LZ/LZV Series
4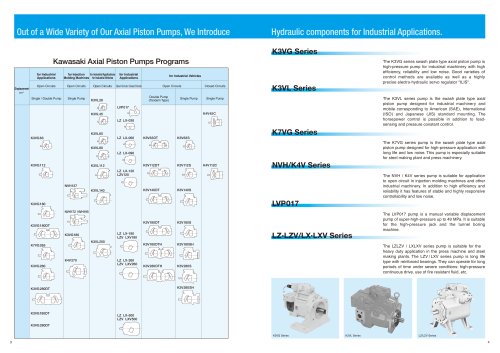 P. 1

http://www.khi.co.jp/kpm/Axial Piston Pumpsfor General Industrial MachineryPRECISION MACHINERY COMPANYTokyo Head OfficeWorld Trade Center Bldg., 4-1, Hamamatsu-cho...

P. 2

ON APPLICATION / USAGEOF THE PRODUCTSAlthough our products are designed on the basis of ourprofound knowledge and long experience, and manufactured under...

P. 4

K3VG SeriesSilent and High-pressure Swash Plate TypeK3VG SeriesSPECIFICATIONS6363sizecm3displacementratedmax.peakratedpressureMPa(kgf/cm2)The K3VG Series...

P. 5

K3VG SeriesREGULATOR CODEORDERING CODEStandard typeK3VG 63 - 1 0 0 R S - 1P M 1 -K3VG 63 - 1 0 0 R S - 1 P M 1 -K3VGK3VG seriesauxiliary pump unit (only...

P. 6

K3VG Series801dB A150,00010,000tilting angle100%50%75655,000510kWE/M capacityK3VG112506010009.810090q/q max.ratio of displacement9180709089888075706006005086839.810019.6200speed29.43001,800min15011,800min2000.0490.5MPa...

P. 7

K3VG SeriesREGULATORSCombining each pressure control and flow control shownleft gives the following combinations of control.Pressure Controlcodefunction...

P. 8

K3VG SeriesK3VG180DT970min4511,150min55L11,150min11,450min11,750minM1M3L2L411.0M3L2L415.0M1M2L1L318.5H3H5M2L122.0H1H3M1M2H2H430.037.022kW5090H4M1M4L2110H1H3M2M4H1H4M2H2H4009.810019.6200MPa(kgf/cm2)delivery...
Text version
All Kawasaki Precision Machinery catalogues and technical brochures
Archived catalogues