Booth:
KAESER
Rotary screw compressor general catalogue -
17 Pages
8-9
Energy-saving 1:1 drive
The motor and airend are joined by
the coupling and its housing to form a
compact and durable unit that is virtually
maintenance-free. Furthermore reliability
and service life are increased through
elimination of wear and transmission
losses, as 1:1 drive reduces the number
of components needed in comparison with
gear drive.
Powerful radial fan
The quiet and powerful radial fan draws
in cool ambient air through the cooler. Its
high residual thrust can deal with partial
clogging of the cooler and still have enough
reserve to allow connection of a long
exhaust duct. In addition, the radial fan
consumes significantly less drive power than
conventional axial fans, saving even more
energy.
Why 1:1 drive?
In compressed air packages
featuring 1:1 direct drive the motor
drives the airend directly without
transmission loss via a maintenancefree
coupling. 1:1 direct drive
rotary screw compressors provide
outstanding performance and enable
significant savings. KAESER's
comprehensive range of specially
designed airends are manufactured
and developed to meet every
compressed air user's needs.
Efficient cooling system
In addition to improved cooling
efficiency, the system has further
benefits to offer: The inside of the
cabinet remains clean because
surrounding air is drawn through the
cooler into the cooler box and then
exhausted directly upward out of the
machine. Contamination from the
cooling air is trapped on the outside
of the cooler. Clogging is easily
Triple savings with 1:1
drive:
œ No power transmission losses
œ Large, low speed airends provide more
air for less energy consumption
œ Significantly reduced maintenance costs
Low speed operation
Large, low speed airends are more efficient
than small high speed airends because
they supply more air for the same drive
power. Low speeds mean less wear and
consequently less maintenance costs.
Others – High speed
KAESER – low speed
After-cooling Intake air (Compressor)
Fluid cooling Motor cooling air
Image:
Series: ASD – HSD
Motor power: 18.5 to 500 kW
Delivery: 2.09 to 86 m³/min
Standard pressures: 5.5 to 15 bar(g)
SIGMA CONTROL
The SIGMA CONTROL compressor controller
is a robust PC-based industrial computer
with a real-time operating system and
update / network capability. These features
lead to optimised energy efficiency, reduce
maintenance costs and increase compressed
air system reliability. Furthermore, the SIGMA
CONTROL is able to communicate with other
master air management systems such as the
SIGMA AIR MANAGER.
KAESER rotary screw compressors
with 1:1 drive
Save energy with the KAESER
SIGMA PROFILE
Every KAESER rotary screw airend is equipped
with energy-saving SIGMA PROFILE rotors.
Components manufactured to the highest
standards and precision aligned roller-bearings
ensure long service life with maximum reliability.
noticed and quickly cleaned off without
the need for any dismantling work.
Operational reliability is improved
and maintenance requirement is
significantly reduced. (HSD series
models are water-cooled)
Energy cost savings
through system optimisation
Potential energy cost savings
with heat recovery
Compressed air system
investment
Maintenance costs
Energy costs
Potential energy cost savings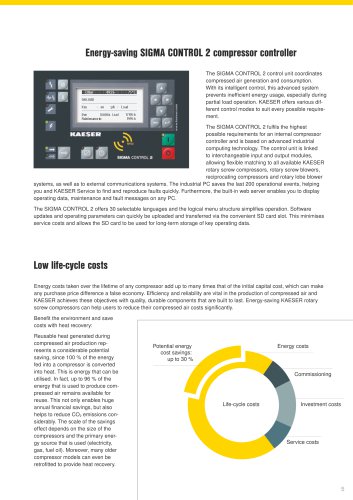 P. 1

www.kaeser.comRotary Screw CompressorsSX – HSD SeriesWith the world-renowned SIGMA PROFILEFree air delivery: 0.26 bis 86 m³/min – Pressure...

P. 2

KAESER – The global compressed air systems providerMore air, more savings...KAESER rotary screw compressors with belt driveKAESER rotary screw compressors...

P. 3

4-5KAESER SIGMA PROFILEDeveloped by KAESER and continuouslyenhanced ever since, the KAESERSIGMA PROFILE achieves powersavings of up to 15 percent comparedwith...

P. 4

6-7Efficient KAESERV-belt driveKAESER screw compressors withV-belt drive provide outstandingefficiency and reliability. KAESERwas one of the first compressormanufacturers...

P. 6

10-11Space-savingcombination of rotaryscrew compressor andrefrigeration dryerWith KAESER's intelligent systemdesign, the compressor and refrigerationdryer...

P. 7

12-13The innovative ASD T toDSD T seriesThese advanced rotary screwcompressors are versatile, reliable andhighly efficient.With an integrated refrigeration...

P. 8

14-15UncompromisingefficiencySM SFC to HSD SFC seriescompressors from Kaeser areexceptionally efficient variable speedrotary screw compressors. SM, SK...

P. 9

16-17SIGMA CONTROL BASIC• Quick and simple operation with clear icons and large display• Fully automatic DUAL control (full load/ idle/ on/off...

P. 10

SIGMA AIR MANAGER –Tomorrow's technology,todayThe SIGMA AIR MANAGER fromKAESER is the first PC-based mastercompressed air management system tocombine...
Text version
All KAESER catalogues and technical brochures
Archived catalogues
ASV, BSV, CSV series

2 Pages