IPU 40234 - IRI 2010 (Thermal Imaging Camera) Data Sheet -
2 Pages
IRI 2010
THERMAL IMAGER
The IRI 2010 is an innovative thermal imager product offeringoutstanding imaging and temperature measurement performance
together with the traditional Irisys features of flexibility, ease of use and
minimal cost of ownership.Irisys has produced an imager which is ideal for maintenanceengineers and can be used to quickly find faults and identify failing
components to save money.The IRI 2010 comes with a set of innovative features, making it aunique product at its price: Image Fusion lets you view the world in visual, thermal or a blend of both. Visual mode allows viewing of objects in a familiar manner, with superimposed temperature measurement. The level of visual and thermal image blending is adjustable from full visual to full thermal via a blending of the two views. Օ Hot and Cold Tracking: The camera can identify the hottest or coldest point in the scene automatically.This assists the user in
fast diagnostics. Audible and Visual alarms: The camera can issue an alarm when a point in the scene is outside a set temperature threshold value. The thresholds can be hot or cold, or both. Օ Voice Annotation: The user can add voice messages to saved images as an aide memoir for later report writing. >
Image fusion lets you view theworld in thermal image,visible image,or a blend of both. Aunique featureinan imager at this price.
Software suite for off-line analysis and report generation.The IRI 2010 is a low cost camera combining the features normallyfound in high specification products with a robust and easy to use
feel. Typical applications for the IRI 2010 include: >
Փ
ӕ Preventative Maintenance; electrical and mechanical. Domestic & Industrial energy audits. Օ HVAC & Refrigeration inspection. Troubleshooting and fault finding.The IRI 2010 is the thermal imaging product designed for the massmarket. >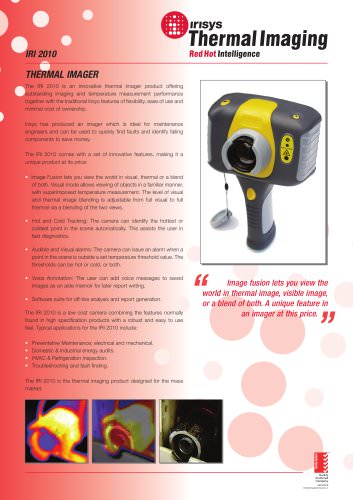 P. 2

n irisys Thermal Imaging id Hol Intelligence IRI 2010 TECHNICAL SPECIFICATION OPTIONAL ACCESSORIES  12V car charger Օ Light...
Text version
All IRISYS - InfraRed Integrated Systems catalogues and technical brochures