IPU 40081 - IRS 2100 (Tailgate Detector) Data Sheet -
2 Pages
IRS 2100
ACCESS CONTROL TAILGATE DETECTOR
The Irisys IRS 2100 is a powerful addition to access control systems, providingdetection of someone following a valid cardholder through a controlled door.
Suitable for use with most access systems it provides an effective means to
increase door security. >
Key Benefits:
Increased door security Օ Detects unauthorised entry Enforces use of card/token Օ Improves roll-call accuracy >
Features:
High detection rate of people tailgating Օ Low False Alarm Rate Unique thermal imaging technology operates
in any lighting conditions Օ Relay interface to access control system >
The Tailgate Detector is basedon the high-accuracy thermal imagingpeople counting technology,detectingand tracking people by their body heat.
Air-Lock option for interlocked doors Օ May be used as Wrong Wayђ detector >
Description of the IRS 2100 Tailgate Detector
ӓ
The IRS 2100 works in conjunction with an access control system to detect
aperson following a cardholder through a controlled door. The Tailgate
Detector is based on the Irisys high-accuracy thermal imaging people counting
technology, detecting people by their body heat. It operates by receiving a
signal from the access system for each valid cardholder accepted at a door
and comparing the number of valid cards with the number of people entering.
In the event that someone follows a valid cardholder through the door without
presenting a valid card/token a tailgate alarm output is generated. >
The tailgate alarmmay be used to trigger a responseappropriate to the application:
Sound a local buzzer at the door to allow the person tailgatingto be challenged by staff Օ Recordatailgate alarm on the security system to allow daily/weeklyreports to be generated Trigger live CCTV images to be displayed for an operator
to action a response Օ Trigger an integrated response for the security system to record
tailgate alarm, time/date, cardholder opening door and digital
CCTV images of persons entering The IRS 2100 operates with most access control systems requiring onlyasimple relay interface. For the installing engineer the unit is configured using
asimple set-up programme. An airlock configuration may be enabled for
interlocked door applications. >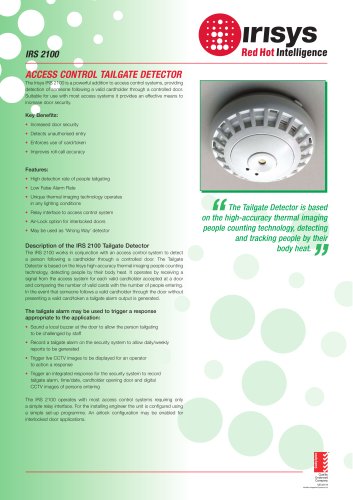 P. 2

IRS2100 SPECIFICATION Interface: Tailgate Configuration Valid Card Input:Relay pulse:12VDC for >100msGap of >100ms betweensuccessive pulses.Input...
Text version
All IRISYS - InfraRed Integrated Systems catalogues and technical brochures