| | |
| --- | --- |
| | |
Complete Relay & Socket Catalog -
68 Pages
Switching & Controls
Relays & Sockets
Switches & Pilot LightsDisplay Lights Selection Guide ........................................... >
724 General Purpose Relays ............................. >
726RH Series Compact Power Relays .................726
RJ Series Slim Power Relays .........................736
RQ Series PCB Relays ....................................744
RR Series Power Relays .................................748
RU Series Universal Relays ...........................754
RY/RM Series Miniature Relays ....................763 NEW Latching Relays ........................................... >
776RR2KP Series Latch Relays ............................776
RY2KS Series Latch Relays ............................779 Solid State Relays ....................................... >
783RSC Series DIN Mount SSR ...........................783
RSS Series Panel Mount SSR ........................786 NEW Relays & Sockets TimersTerminal BlocksCircuit Breakers
For more information on this product family, visit our website. Additional resources include:
New and updated product information Օ Downloadable software demos & upgrades Part confi guration tool & cross reference Օ Online stock check & ordering IDEC fi eld sales & distributor search Օ Online literature request Downloadable manuals & CAD drawings Օ Manufacturers suggested retail price list ҕ Product training schedule & locations Advertising & trade show schedules Օ Press releases & FAQs
www.idec.com/relay
Table of Contents Automation & Sensing - Pg. 1Safety - Pg. 315Switching & Controls - Pg. 439Index - Pg. 911 size="-2">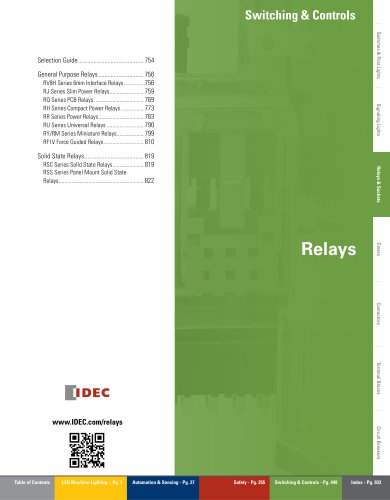 P. 2

Selection Guide Relays & Sockets Selection Guide General Purpose Relays RH SeriesRJ SeriesRQ SeriesRR SeriesAppearance >NEWModels Switches...

P. 3

Relays & Sockets Selection Guide Selection Guide cont Switches & Pilot LightsDisplay LightsRelays & SocketsTimersTerminal BlocksCircuit...

P. 4

RH Series Relays & Sockets RH Series Compact Power Relays SPDT through 4PDT, 10A contacts Compact power type relays The RH series are miniature...

P. 5

Sockets (for Blade Terminal Models) Relays Standard DIN Rail Mount 1 Finger-safe DIN Rail Mount 1 Through Panel Mount PCB Mount ...

P. 6

RH Series Relays & Sockets Contact Ratings UL Ratings Maximum Contact CapacityModelContinuous Current Allowable Contact PowerRated Load VoltageResistiveGeneral...
Text version
All IDEC USA catalogues and technical brochures