Booth:

Hitachi Air-conditioning & Refrigeration Division
Group: HITACHI
Set Free Variable refrigerant flow air conditioning systems -
48 Pages
Set Free Selection Software Hi-toolKit
Hitachi has developed a new programme to design Set Free systemswhich meet building consultants and technical advisors requirements. The software allows the user to proceed quickly and easily through the
phases of selection of a system through to the complete project. Your project in just 6 clicks... Product Selection ֕ Quick and reliable Simple and user friendlyՕ Free of charge This software allows the user the flexibility to choose the required number of indoor and outdoor units and control systems either by model or capacity. Refrigeration Schematic Automatic calculation of pipe sizes and multikits. Option for automatic or manual drawings which can be exported into CAD software. Electrical Drawing Electrical drawing showing the power supply, communication cables,accessories and control systems. Specification Using the selected information the software allows the user to produce a full product specification in word format. Schedule of Equipment This shows a list of the number of Hitachi systems chosen, pipework and wiring digrams and the refrigerant charge required. Commissioning Automatically produces dip switch settings, equipment list andcommissioning checklist. >
Hi-toolKit
45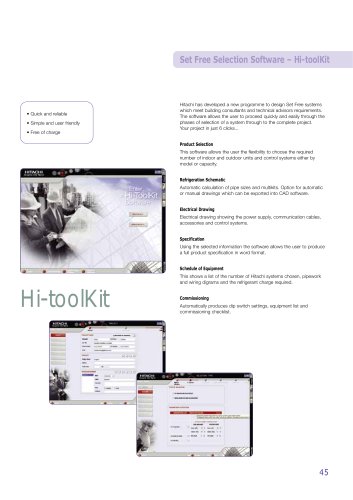 P. 40

Unit Setting Different setting of the unit can be programmed remotely usingCS-NET Web. > Timer 4 year timer can be stored in theCS-NET Web remotely,...

P. 41

Specifications of HARC-BX Type Standard Option A Option B Connectable Q'ty 64 64 32 Control Monitor Control...

P. 42

PC-P2HTE Remote Control Switch with Seven Day Timer This remote controller can control upto 16 indoor units, has a large LCDdisplay and an internal thermostat.It...

P. 43

Optional parts 43 >

P. 44

4-Way and Mini 4-Way Cassette Type Item Receiver Kit for Wireless Control RCI-1.0-6.0FSN1E PC-RLH8(on the panel) PC-RLH11 (wall mounted) ...

P. 46

The multimedia is user friendly and is based around sophisticated 3Dcomputer animation and audio commentary A useful presentation mode is also available...

P. 47

47 >

P. 48

Specifications in this catalogue are subject to change without notice in order that HITACHI may bring the latest innovations to their customers. Omitting...
Text version
Archived catalogues