Mark III Series Reflow System -

2

/ 2 Pages
A D V A N C E D
The Technology Leader
T E C H N O L O G Y
F O R
D E M A N D I N G
P R O C E S S E S
Advancements like the invention of the first waterless / filterless flux
separation system earned Heller the prestigious Vision Award for Innovation in
soldering. But more importantly, this development extended preventative
maintenance intervals from weeks to months.
Now, the latest breakthroughs associated with the MK III reflow system
provide even lower cost-of-ownership for our customers. The new heating and
cooling technologies deliver up to 40% reduction in nitrogen and electrical
consumption. This makes the MK III system not only the premier soldering
system but the best overall value in the industry!
Recognized Leadership
Fastest Cooling Rates
Enhanced Heater Modules
Ultra-Parallel Conveyor System
Four (4) lead screws ensures the tightest
tolerances and parallelism — even on boards
with 3mm clearance at the edges!
A Heller Exclusive!
Enhanced heater modules "blanket" the PCB with
heat for the lowest Delta Ts on the toughest boards!
Additionally, the Uniform Gas Management system
eliminates "net ow" which results in nitrogen consumption reductions of up to 40%!
The new blow thru cooling module
provides cool rates of >3 deg C/Sec — even
on LGA 775! That rate meets even the most
demanding Lead Free Prole requirements!
Heller's 10" (250mm) long heater modules
are 2" (50mm) narrower than our competitors so we can provide more modules than
anyone in the industry! More modules
means more process control and a 17%
lower liquid time for the tightest tolerances
of all!
Blow Thru Cooling
(high velocity)
Exhaust
Silicone
Heater
Process Control
Powered by ECD, this innovative software
package provides three levels of process
control from Oven CpK, to Process CpK and
Product Traceability, this software ensures
that all parameters are optimized and SPC
reporting is fast and easy.
New Flux System Virtually
Eliminates Maintenance
Our focus on technology-driven solutions in partnership
with our customers has been consistently recognized
throughout the years by several industry agencies
including two Vision Awards for new product innovation,
two Market Leadership Award, two Service Excellence
Awards, several awards for vendor excellence and
appointments to prominent positions on Industry
committees and Boards.
1700 Mark III Series
• 1707 Mark III
The best value in the market.
Ideal for start-ups or medium
volume production. Includes
advanced features previously
found on premium systems.
Certainly these awards and appointments validate our
position; but more importantly, they confirm that Heller
is at the forefront of the technology curve — constantly
bringing new innovations to market faster and with
greater impact than our competitors.
This new ux collection system traps
the ux in a separate collection box
with easy to remove plates. As a result,
the oven tunnel is kept clean — thus
saving time consuming P.M. A collection
jar captures the ux and can be removed
while the oven is running for the ultimate
in time savings!
1800 Mark III Series
These workhorses provide
consistent performance for high
volume requirements while
minimizing P.M. and oorspace.
New Frame
More than simply beautiful, this new frame utilizes twice the
insulation. This reduces heat loss and saves up to 40% on
electricity costs!
The World's Best Convection Reflow Oven
1900 Mark III Series
The ultimate high volume
production solution with belt
speeds up to 1.4m/min to
accommodate the fastest pickand-place systems. The 1913
MKIII delivers the highest levels
of repeatability with the lowest
delta Ts.
• 1809 Mark III
• 1809 Mark III
(with optional
3rd cooling zone)
• 1812 Mark III
• 1913 Mark III
Non-LGA
• 1913 Mark III
LGA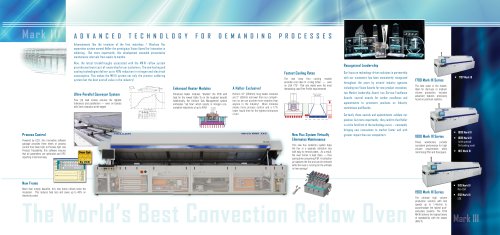 Text version
All Heller Industries catalogues and technical brochures