Booth
Hamar Laser
Catalogues

News

Exhibitions
L-730/740 Laser Alignment System -
8 Pages
Specifications
L-743 Triple Scan Laser with Coarse/Fine Adjust Base
L-743 Triple Scan® Ultra-Precision Machine Tool Alignment System*
)p view
PRECISION LEVEL VIAL [ROLL]
.86 [21.8] TYP
L-733 Triple Scan Laser with Coarse Adjust Base
Weight Laser: 3 lbs. (1.3 kg)
Base: 4.8 lbs. (2.2 kg) Battery Pack: 1 lb. (0.45 kg)
Material Laser: Aluminum and stainless steel
Base: Aluminum
Laser Type Class II visible diode, 635 nM wavelength
(class 1 in Scanning Mode); 0.160" (4.06 mm) beam diameter
Beam Power 0.9 mW per straight beam
Beam Stability .0001"/hr/°F (0.005 mm/hr/°C) translational 0.2 arc sec./hr/°F (0.36 arc sec/hr/°C) angular
Beam Straightness .00001 in/ft (0.0008 mm/M)
Laser Plane Flatness For L-740 Series: 360° Sweep: 0.5 arc second
(0.00003 in/ft or 0.0025 mm/M), plus maximum translational error of +/-.00005" (0.0013 mm) 90° Sweep: 0.25 arc second (.000015 in/ft or 0.0013 mm/M) plus maximum translational error of +/-.00005" (0.0013 mm). For L-730 Series: 2 arc seconds for flatness
side view
COARSE YAW ADJUST
Beam/Plane Squareness
For L-740 Series: 3 (or 2) planes mutually square to within 1.0 arc second (.00006 in/ft or 0.005 mm/M) For L-730 Series: 3 (or 2) planes mutually square to 2 arc seconds
100 feet (30.5 meters) in radius
1, 2, or 3 beams and/or 1, 2, or 3 continuously sweeping planes in any combination, individually switched
9V DC external battery pack (4 cells) or 115V AC adapter
(See chart) +/- 3 degrees
.010" (0.25 mm) in 100 feet (30.5 meters)
+/- 0.3 degrees (L-740 Series Only)
.001" (0.025 mm) in 100 feet (30.5 meters)
(L-740 Series Only)
COARSE PITCH ' ADJUST
MAGNETIC BASE '
COARSE ROLL ADJUST
All dimensions in inches [mm] * See www.hamarlaser.com for a drawing of the L-733 Triple Scan Laser.
Operating Range Operating Modes
Power Supply
Power Draw
Coarse Adjustment Range
Coarse Adjustment Resolution
Fine Adjustment Range
Fine Adjustment Resolution
Power Draw

Laser Only

Laser & Scanner

Battery

Life*

1 Beam

100 mA

130 mA

2.5 hrs.

2 Beams

180 mA

230 mA

1.4 hrs.

3 Beams

260 mA

330 mA

1.0 hrs.

* Per 9V alkaline battery (500 mA hrs.). Multiply battery life figure by the number of batteries used (external battery pack uses 4 cells).
HAMAR
Hamar Laser Instruments, Inc.
5 Ye Olde Road, Danbury, CT 06810 Phone: +1.203.730.4600 • 800.826.6185 • Fax: +1.203.730.4611 E-mail: sales@hamarlaser.com www.hamarlaser.com
For a list of our distributors, please visit: htp://itww.hamarIaser.com/intl_distribuorshtin
© 2006 Hamar Laser Instruments, Inc. (8/06) 2.5K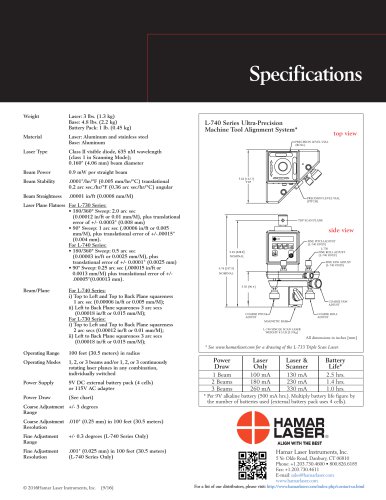 P. 3

Properly Aligned Machinery AndProcess Lines Run Better,Last Longer Why Laser Alignment? Case Histories 1 > Aircraft Assembly Sooner or later everything...

P. 4

How Lasers Work: Principles of Operation LASER is an acronym for Light Amplification by Stimulated Emission of Radiation. Lasers radiate in a...

P. 5

L-730 Series Systems High-Accuracy, Economically-Priced Laser Alignment Systems Features and Benefits The L-730 Series of single, dual and triple-plane...

P. 6

L-740 Series Systems Laser Alignment Systems for Complex, Ultra-Precise Applications Features and Benefits Our ultra-precision L-740 Series Laser...

P. 7

Powerful Data Analysis Software Hamar's alignment software, combined with newly-designed wireless interfaces, makes collecting and analyzing alignment...
Text version
All Hamar Laser catalogues and technical brochures
Archived catalogues