Booth:
Hamar Laser
L-730/740 Laser Alignment System -
8 Pages
L-740 Series Systems
Laser Alignment Systems for Complex, Ultra-Precise Applications
Features and Benefits Our ultra-precision L-740 Series Laser Alignment Systems represent the pinnacle of achievement in laser alignment technology. With the L-743 Triple Scan® laser, measure flatness, straightness, and squareness simultaneously, with one setup! Powerful machine geometry analysis software automatically downloads alignment data, corrects laser-slope and poor-reference-point errors and produces comprehensive alignment reports.
L-740 Series Features:
• One, two or three auto-rotating laser planes
• Accurate to .000037ft or 0.0025 mm/M
• Laser plane orthogonality: .000067ft or 0.005 mm/M
• Built-in, backlit level vials with .000067ft or 0.005 mm/M accuracy
• 3-axis adjustment base for fast setups
The system comes with 2 wireless target options: A) the A-1519 with 1" (25mm) measuring range and .00002" (0.0005 mm) resolution; or B) the A-1520 with .25" (10 mm) measuring range and .00001" (0.00025 mm) resolution. Our R-1310 wireless readout can display up to eight targets, four simultaneously. The A-910 wireless PC base station can download data from up to 99 targets at the same time.
Which Laser System Is Right For You?
Precision Series

Ultra Precision Series

L-730 L-732 L-733

L-740 L-741 L-742 L-743

# of La

ser Planes

12 3

112 3

Measurement Tasks

Flatness/Leveling • • •

• . . .

Machine Bed • • • Flatness

... •

Squareness • •

• . .

Straightness • •

. . .

Parallelism • • •

. . . .

Rail Parallelism • •

..

Typical Applications

Machine Tool Geometry

. . .

Roll Alignment • •

..

Inj. Molding Mach. • •

..

Aerospace Assem. • • •

. . . .

Surface Plates

. . . .

Large-Part Align. • • •

. . . .

Fabrication • • • Alignment/Equip.

Accuracy Levels

Laser Plane .00012"/ft or 0.01 mm/M Flatness

.00003"/ft or 0.0025 mm/M

Beam Plane n/a .00012"/ft or Squareness 0.01 mm/M

n/a 00006"/ft or

0.005 mm/M

Adjustment Parameters

Coarse +/- 3.0 degrees Adjustment Range

+/- 3.0 degrees

Fine n/a Adjustment Range

+/- .03 degrees

Course .010" (0.25 mm) in Adjustment 100 feet (30.5 meters) Resolution

.010" (0.25 mm) in 100 feet (30.5 meters)

Fine n/a Adjustment Resolution

.001" (0.025 mm) in 100 feet (30.5 meters)

Target:

A-1532 & std. std. std.

A-1533

n/a n/a n/a n/a

A-1519 & opt. opt. opt. A-1520 Wireless

std. std. std. std.

Recommended #: 1 2-3 3—4

1 1 2-3 3-4

Readout:

Built-in std. std. std.

n/a n/a n/a n/a

Wireless opt. opt. opt.

std. std. std. std.

$$ $$ $$$ $$$$
L-740 Ultra-Precision Leveling Laser
L-741 Ultra-Precision
Leveling Laser (with Plumb Beam)
L-742 Ultra-Precision Dual Scan® Laser
L-743 Ultra-Precision Triple Scan®® Laser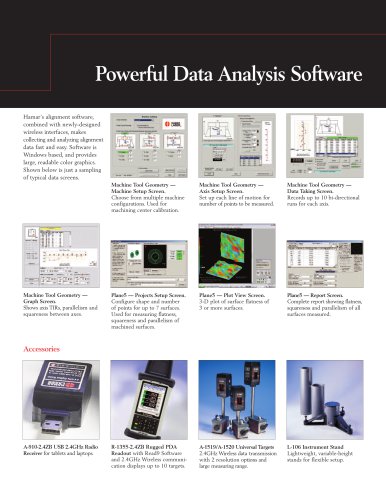 Text version
All Hamar Laser catalogues and technical brochures
Archived catalogues