Booth

GARDNER DENVER
Group: GARDNER DENVER
Catalogues

News

Exhibitions
R-Series -
12 Pages
HORIZONTAL TANK MOUNTED UNITS - ELECTRIC DRIVEN
Motor

Tank

Cap

Gal.

R-Series

Pump

PL-Series

Pump

LxWxH

Aprox.

125 PSI Rating*

175 PSI Rating*

250 PSI Rating*

HP

CASRSA

Comp

Model

CBSPLA

Comp

Model

Dimensions inches

Ship

Wt.lbs.

RPM

■aai

EH

CFM

Del'y

RPM

wm

ggj

wm

BJ

RPM

EH

CFM

Del'y

 

30

HR1-3

R-10D

NA

NA

411/2X 201/4X441/2

300

575

11.2

6.0

542

10.5

5.3

NA

NA

NA

iy>

60

HR1-6

R-10D

NA

NA

5iy2X23y4X49

400

575

11.2

6.0

542

10.5

5.3

NA

NA

NA

iy>

80

HR1-8

R-10D

NA

NA

66y2X23y4X49

425

575

11.2

6.0

542

10.5

5.3

NA

NA

NA

2

30

HR2-3

R-10D

NA

NA

411/2X 201/4X441/2

320

765

14.9

8.3

725

14.1

7.5

NA

NA

NA

2

60

HR2-6

R-10D

NA

NA

5iy2X23V4X49

425

765

14.9

8.3

725

14.1

7.5

NA

NA

NA

2

80

HR2-8

R-10D

NA

NA

66y2X23y4X49

455

765

14.9

8.3

725

14.1

7.5

NA

NA

NA

3

60

HR3-6

R-15B

HPL3-6

PL-15A

5iy2X23V4X49 I 425

485

14.1

10.9

440

12.8

9.7

380

11.0

8.0

3

80

HR3-8

R-15B

HPL3-8

PL-15A

66y2X23y4X49 | 485

485

14.1

10.9

440

12.8

9.7

380

11.0

8.0

3

120

HR3-12

R-15B

HPL3-12

PL-15A

70y2X 25 x 523/4

725

485

14.1

10.9

440

12.8

9.7

380

11.0

8.0

5

60

HR5-6

R-15B

HPL5-6

PL-15A

5iy2X23V4X49

445

805

23.5

19.1

734

21.4

17.3

640

18.6

13.6

5

80

HR5-8

R-15B

HPL5-8

PL-15A

66y2X23y4X49

535

805

23.5

19.1

734

21.4

17.3

640

18.6

13.6

5

120

HR5-12

R-15B

HPL5-12

PL-15A

70y2X 25 x 523/4

765

805

23.5

19.1

734

21.4

17.3

640

18.6

13.6

7V2

80

HR7F-8

R-15B

HPL7F-8

PL-15A

66y2X23y4X49

570

990

28.7

23.9

990

28.7

23.1

870

25.5

18.2

7V2

120

HR7F-12

R-15B

HPL7F-12

PL-15A

70y2X23V4X52y4

765

990

28.7

23.9

990

28.7

23.1

870

25.5

18.2

7y>

80

HR7-8

R-30D

HPL7-8

PL-30A

66y2X23y4X52y4

665

670

39.6

30.0

575

33.5

25.8

520

30.2

21.3

7y>

120

HR7-12

R-30D

HPL7-12

PL-30A

70y>x25x53y4

860

670

39.6

30.0

575

33.5

25.8

520

30.2

21.3

10

80

HR10-8

R-30D

HPL10-8

PL-30A

66y2X23V4X49y4

675

810

47.3

37.3

740

43.1

34.8

640

37.1

27.5

10

120

HR10-12

R-30D

HPL10-12

PL-30A

70y>x25 x53y4 I 890

810

47.3

37.3

740

43.1

34.8

640

37.1

27.5

10

250

HR10-25

R-30D

HPL10-25

PL-30A

87y2X30x60y2 1 1295

810

47.3

37.3

740

43.1

34.8

640

37.1

27.5

15

80

HR15F-8

R-30D

HPL15F-8

NA

66y2X23V4X49y4

675

1045

60.9

50.2

1045

60.9

49.0

900

52.5

42.6

15

120

HR15F-12

R-30D

HPL15F-12

PL-30A

70y>x25x 53y4

840

1045

60.9

50.2

1045

60.9

49.0

900

52.5

42.6

15

250

HR15F-25

R-30D

HPL15F-25

PL-30A

88y2 X 30 X 6oy2

1275

1045

60.9

50.2

1045

60.9

49.0

900

52.5

42.6

15

120

HRA15-12

R-40A

HPL15-12

PL-40A

72x27y2x62

1110

890

71.1

59.0

770

61.5

53.7

700

55.9

45.8

15

250

HRA15-25

R-40A

HPL15-25

PL-40A

89 X 30y4 X 64

1495

890

71.1

59.0

770

61.5

53.7

700

55.9

45.8

20

120

HRA20-12

R-70A

HPL20-12

PL-70A

72x27y2x64y2

1325

770

109.0

91.9

655

93.0

76.7

545

77.4

64.1

20

250 I HRA20-25 1 R-70A 1 HPL20-25

PL-70A

89x30y4x7iy2

1790

770

109.0 I 91.9

655

93.0

76.7

545

77.4

64.1

25

120 1HRA25-12 | R-70A | HPL25-12

PL-70A

72 X 27y2 X 64y2

1365

890

127.8|l02.1

770

109.4

90.1

660

93.7

76.8

25

250

HRA25-25

R-70A

HPL25-25

PL-70A

89x30y4x7iy2

1735

890

127.8

102.1

770

109.4

90.1

660

93.7

76.8

30

120

HRA30-12

R-70A

HPL30-12

PL-70A

72x27y2x64y2

1404

890

127.8

102.1

890

127.8

101.0

770

109.4

90.0

30

250

HRA30-25

R-70A

HPL30-25

PL-70A

89x30y4x7iy2

1774

890

127.8

102.1

890

127.8

101.0

770

109.4

90.0
VERTICAL TANK MOUNTED UNITS - ELECTRIC DRIVEN
Motor

Tank

Cap

Gal.

R-Series

Pump

PL-Series

Pump

LxWxH

Aprox.

125 PSI Rating*

175 PSI Rating*

250 PSI Rating*

HP

CASRSA

Comp

Model

CBSPLA

Comp

Model

Dimensions inches

Ship

Wt.lbs.

RPM

H

M

RPM

H

M

RPM

H

m

iy>

60

VRl-6

R-10D

NA

NA

30y>x 24x76

400

575

11.2

6.0

542

10.5

5.3

NA

NA

NA

iy>

80

VR1-8

R-10D

NA

NA

32y>x 24x75

425

575

11.2

6.0

542

10.5

5.3

NA

NA

NA

2

60

VR2-6

R-10D

NA

NA

30y>x 24x76

425

765

14.9

8.3

725

14.1

7.5

NA

NA

NA

2

80

VR2-8

R-10D

NA

NA

32y>x 24x75

455

765

14.9

8.3

725

14.1

7.5

NA

NA

NA

3

60

VR3-6

R-15B

VPL3-6

PL-15A

30y>x 24x76

425

485

14.1

10.9

440

12.8

9.7

380

11.0

8.0

3

80

VR3-8

R-15B

VPL3-8

PL-15A

32y>x 24x75

485

485

14.1

10.9

440

12.8

9.7

380

11.0

8.0

3

120

VR3-12

R-15B

VPL3-12

PL-15A

36x30x81

725

485

14.1

10.9

440

12.8

9.7

380

11.0

8.0

5

60

VR5-6

R-15B

VPL5-6

PL-15A

30y>x 24x76

445

805

23.5

19.1

734

21.4

17.3

640

18.6

13.6

5

80

VR5-8

R-15B

VPL5-8

PL-15A

32y>x 24x75

545

805

23.5

19.1

734

21.4

17.3

640

18.6

13.6

5

120

VR5-12

R-15B

VPL5-12

PL-15A

36x30x81

765

805

23.5

19.1

734

21.4

17.3

640

18.6

13.6

7y>

80

VR7F-8

R-15B

VPL7F-8

PL-15A

32y>x 24x75

635

990

28.7

23.9

990

28.7

23.1

870

25.5

18.2

7y>

120

VR7F-12

R-15B

VPL7F-12

PL-15A

36x30x81

765

990

28.7

23.9

990

28.7

23.1

870

25.5

18.2

7y>

80

VR7-8

R-30D

VPL7-8

PL-30A

42y2X30x66y¡

665

670

39.6

30.0

575

33.5

25.8

520

30.2

21.3

7y>

120

VR7-12

R-30D

VPL7-12

PL-30A

43V2X 30x81

800

670

39.6

30.0

575

33.5

25.8

520

30.2

21.3

10

80

VR10-8

R-30D

VPL10-8

PL-30A

42y2X30x66y¡

860

810

48.5

37.3

740

43.1

34.8

640

37.1

27.5

10

120

VR10-12

R-30D

VPL10-12

PL-30A

43V2X 30x81

890

810

48.5

37.3

740

43.1

34.8

640

37.1

27.5

15

120

VR15F-12

R-30D

NA

NA

43V2X 30x81

890

1045

63.5

50.2

1045

63.5

49.0

900

52.5

42.6
*Pressure Lubricated units are capable of 250 PSIG operation; units tested in accordance with CAGI/PNEUROP Acceptance Test Code PN2CPTC2.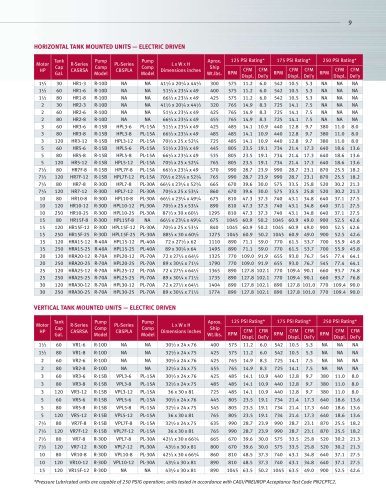 P. 4

4 Splash-Lubricated R-Series Loaded with rugged features, these splash- lubricated compressors deliver high performance, long life and tremendous...

P. 5

Pressure-Lubricated PL-Series The PL-Series compressor has been designed to operate in extreme duty applications and is also an alternative to...

P. 6

Select the Options That Match Your Needs Many options are available to help you develop a Gardner Denver compressor package that exactly matches...

P. 7

7 6. Refrigerated Dryer Cools compressed air to a 33°F-39°F dew point, eliminating additional downstream condensation in the air line....

P. 8

8 Dimensions R & PL-SERIES BARE-PUMP DIMENSIONS ItemR-10D, R-15B, PL-15InchR-30D & PL-30InchR-40A & PL-40InchR-70A & PL-70InchA...

P. 10

10 Specifications BASE MOUNT MotorHPR-SeriesCABRSAPumpPL-SeriesCBBPLAPumpLxWxHDimensions inchesAprox.125 PSI Rating*175 PSI Rating*250 PSI Rating*CompModelCompModelShipWt.lbs.RPMESImESImRPMESImCFMDel'yRPMESImESImiy2BR-1R-10DNANA341/2Xl93/4x...

P. 11

11 ENGINE DRIVEN MotorHPTankCapGal.R-SeriesCAERSAPumpPL-SeriesCBEPLAPumpLxWxHDimensions inchesSplashPressure175 PSI Rating**250 PSI Rating**CompModelCompModelAprox....

P. 12

Warranty Compressor Pump Warranty Each new Gardner Denver Assembled Unit has a five (5) year warranty on the compressor pump only, against defects...
Text version
All GARDNER DENVER catalogues and technical brochures
Archived catalogues
Air Preheater Cleaner brochure

4 Pages