Booth:
Galil
General Catalog -
99 Pages
Galil. We Move The World

Easy-to-Use Controllers Get You to Market Quickly

It has always been a top priority at Galil to design and make motion controllers that are easy to use. That's why Galil controllers use two-letter, English-like commands to make programming controllers a snap. For example,the command "BG" begins motion,"SP" specifies the speed and "ST"stops motion.With over 200 commands, you can quickly and easily program a Galil controller to handle virtually any application. Additionally, our new GalilTools software is a great tool for easily optimizing the performance of your servo system.Simple "One-button"tuning automatiͭcally selects the best PID parameters for your system and a multi-trace scope displays real-time data such as position, position error,and torque.

Custom Solutions to Fit Any Application

Galil is geared to deliver customized firmware and hardware products built to your specifications—and they can do so quickly and cost-effectively. For example, hardware specials such as modified board size, custom connectors, different communication and additional I/O, are typically completed within a 12-week period with engineering charges as low as $3,000. Firmware specials can be written for an unlimited number of requirements and are typically completed within two weeks with engineering charges as low as $400.

The following is a sampling of custom solutions that Galil has provided:

■ SSI or absolute encoder interface

■ Compiled application programs for high-speed execution

■ High resolution gearing

■ Coordinate transformation

■ Copy protection for application programs

■ Battery back-up for memory

■ Encoder integrity checking

■ Modulo position

■ ECAM acceleration

■ Backlash and leadscrew compensation

■ Special connectors

■ Custom communications interface

■ Special size and shape

■ Ceramic motor control

■ And many more!

~1 «i)—-

■.t.i.rH. mam

up

J Hfl

li. w, 4. №. o. b

- -- ■

Wl Hilf I c»tͯl«F Im

Etti""

TCI

n . I ...

• 1 H "TI Pik

S VL1M

■ Li™

* ■

■

-*>]•

H

■ I »

-wl MM t

« V

-

.-I ' i

m

in

■

_al i ri

—

GalilTools software makes graphing controller data quick and easy.

www.galilmc.com / Galil Motion Control, Inc.

2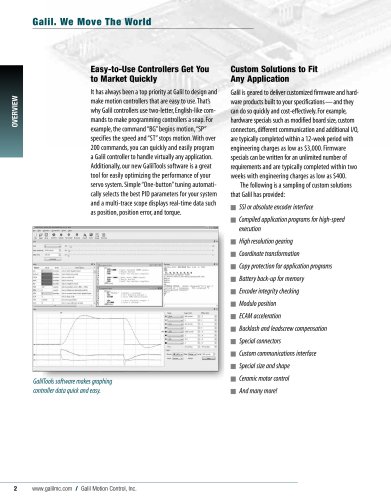 P. 1

2008Motion Control Product Catalog >

P. 2

Table of Contents 1COMPANY AND PRODUCT OVERVIEW5MOTION CONTROLLERSINTRODUCTION 5 Selection Guide 6 Features and Benefits 7 General Description and Programming...

P. 3

OVERVIEW Galil Motion Control We Move The World A Broad Array of Products Galil's full product offering can accommodate all your motion...

P. 5

Cost-effective Solutions Give You a Competitive Edge Galil realizes how critical it is for OEM design engineers to keep their equipment costs down,...

P. 6

Galil. We Move The World D elivering the Best ValueAnywhere Galil understands your need to work within budgets and keep costs down.Thatגs why...

P. 7

MOTION CONTROLLERS Galil Controllers Selection Guide Galil offers an extensive array of controllers that meet a wide variety of...

P. 8

Galil Controllers Features The benefits of Galil motion controllers are many, including: Highest performance ■ 32-bit microprocessor...

P. 9

Galil Controllers il Description Servo Motor Compensation Features Galil controllers provide a compensation filter,which includes a PID...
Text version
All Galil catalogues and technical brochures