Flowserve Pump Product Catalog -

71

/ 76 Pages
flowserve.com
Reference Sources
FlowSelex™ Interactive Pump
Selection Application
FlowSelex is a Web-based interactive pump selection
program that allows users to access an extensive
database of Flowserve pump sizing information
anytime, anywhere.
This versatile tool delivers a wide range of information,
from pump descriptions and operating parameters to
custom application package specifications with
supporting technical documentation, including:
• Performance curves
• Hydraulic data sheets
• General arrangement drawings
• Construction data sheets
FlowSelex can be accessed at
www.Flowserve.com/FlowSelex.
Cameron Hydraulic Data
First published in 1926 and now in
its 19th edition, the Cameron
Hydraulic Data book is an
indispensable aid to engineers
involved with the specification,
selection and application of pumping
equipment. This comprehensive
reference tool includes:
• Hydraulic principles and formulae
• Friction data
• Properties of common liquids
• Steam and electrical data
• Weights, dimensions, and ratings of pipe
flanges and fittings
• Metric conversions
To obtain a copy of the Cameron Hydraulic Data
book, visit: www.cameronbook.com.
Pump Engineering Manual
This publication is devoted to
explaining centrifugal pump principles.
It covers the basics, from application
analysis and affinity laws through
hydraulics and mechanical phenomena
to troubleshooting.
To obtain a copy of the Pump
Engineering Manual, visit:
www.cameronbook.com.
71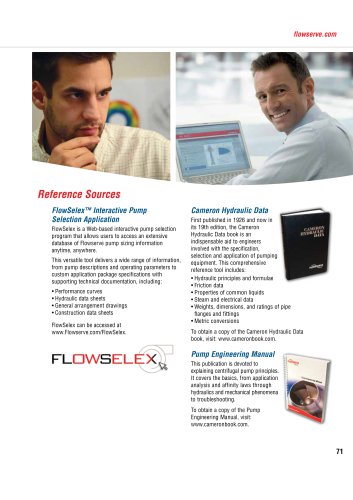 Text version
All FLOWSERVE catalogues and technical brochures
Archived catalogues