Flowserve Pump Product Catalog -

3

/ 76 Pages
flowserve.com
Pump Designs
Flowserve offers a wide range of complementary
pump types, built to recognized global standards
and customer specification. These include:
• Single-stage process
• Between bearings single-stage
• Between bearings multistage
• Vertical
• Submersible motor
• Positive displacement
• Nuclear
• Specialty
Available Configurations
• Sealed and sealless
• Axially and radially split
• Volute and diffuser
• Close coupled and spacer coupled
• Single and double case
Committed to the Complete Pump
System Life Cycle
For more than two centuries, Flowserve has
served industries requiring solutions that add
value and reduce costs throughout the life
cycle of a pumping system.
• Oil and gas
• Chemical
• Power generation
• Water
• General industry
Flowserve partners
with customers to
respond to the
dynamic business
conditions that
affect them and to
improve efficiency, maximize throughput and
control process quality. Whether customer needs
involve on-site technical assistance, equipment
upgrades or broader project planning with full
turnkey responsibility, Flowserve delivers
professional, reliable results.
3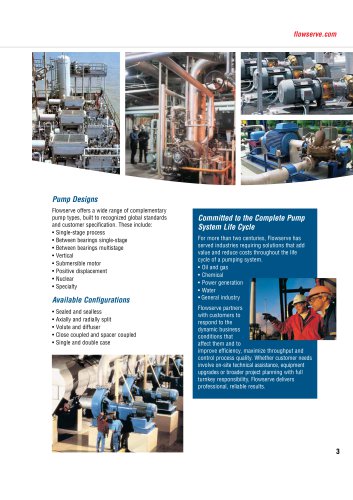 Text version
All FLOWSERVE catalogues and technical brochures
Archived catalogues