Booth:

FLOWSERVE
Group: Flowserve

Flowserve Pump Product Catalog -
84 Pages
PumpProduct Catalog
Flowserve Corporation is one of the worlds leading providers of fluidmotion and control products and services. Operating in 56 countries,
the company produces engineered and industrial pumps, seals and
valves as well as a range of related flow management services.Flowserve works closely with customers and partners to deliver best-in-class solutions that leverage our considerable application experience, our advanced technical services and
our extensive product portfolio.
In this way, Flowserve provides
solutions that enable our customers to improve productivity, reliability and profitability. Heritage Names of Distinction ACEC >
ҙ Centrifugal PumpsAldrich >
PumpsByron Jackson >
ή PumpsCameron >
PumpsDurco >
ή PumpsFlowserve >
PumpsIDP >
ή Pumps >
Flowserve Pumps are comprised
of the brands listed at right. Thisis our heritage and the Jeumont-Schneider >
Pumps Pacific >
ٮ PumpsPleuger >
basis forthe respect and trust we enjoy inthe global marketplace. PumpsScienco >
ή PumpsSier-Bath >
Rotary PumpsTKL >
Ι PumpsUnited >
Centrifugal PumpsWestern Land Roller >
ή Irrigation Pumps
Wilson-Snyder >
Pumps Worthington >
ή Pumps Worthington Simpson >
Pumps >
3 size="-1">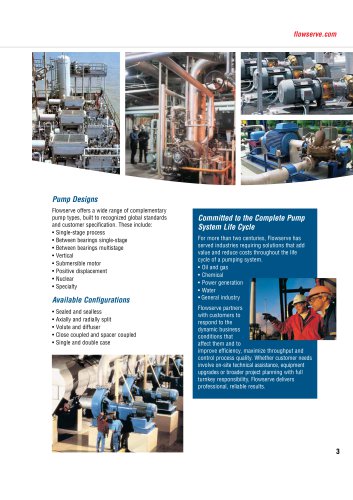 P. 1

Pump Product Catalog Experience In Motion >

P. 4

Table of Contents Table of Contents SectionPage Introduction 6-7 Flowserve Capabilities 8 A Guide to Flowserve Pumps 9 Pump Selection Guide 10-16 SectionPage...

P. 5

Rotary Pumps Table of Contents SectionPage Introduction 63 Gear 64 Screw 65 > Specialty Pumps Additional Information SectionPage SectionPage Introduction...

P. 6

Flowserve PumpsIntroduction Introduction Pump Supplier To The World Flowserve is the driving force in the global industrial pump marketplace. No other...

P. 7

Pump Designs >Introduction Flowserve pump product lines are extensive with more than 100 distinct models and thousands of optional configurations. These...

P. 8

Flowserve Capabilities Flowserve Capabilities Dynamic Technologies Few, if any, pump companies can match the capabilities of Flowserve in hydraulic and...
Text version
All FLOWSERVE catalogues and technical brochures