ROTAR Complete catalogue -

2

/ 16 Pages
2 07/2007 LISTINO ROTAR | ROTAR PRICE LIST
Fini rotary screw compressors of the Rotar series are designed for continuous duty in very hard conditions of use.
These products reflect special attention on modularity, energy consumption, low operating and maintenance costs, simple installation and easy use.
The production cycle - design, mechanical operations, assembly, testing, packing and shipping - takes place entirely in Fini. Each product, built according to the standard rules, is carefully controlled in every phase of this process by skilled staff to guarantee that the specific tests on quality and operation are fully passed. In addition to the complete product, FSD (Fini Screw Division) offers a wide range of screw units, intake regulators, thermostatic valves and accessories for the assembly of rotary compressors.
Compressori rotativi a vite silenziati | Rotary silenced screw compressors
I compressori rotativi a vite Fini della serie Rotar sono progettati per il funzionamento continuo alle pi severe condizioni di utilizzo, con particolare attenzione alla modularit, ai consumi energetici, ai bassi costi di esercizio e manutenzione, alla facilit頠 di installazione ed uso. Tutto il ciclo produttivo viene realizzato interamente allinterno dellҒazienda: progettazione, lavorazioni meccaniche, assemblaggio, collaudo, imballaggio e spedizioni. Ogni prodotto, realizzato conformemente alle normative vigenti, seguito scrupolosamente in tutte le fasi di questo processo da personale addestrato e qualificato, per garantire il superamento di specifici test qualitativi e funzionali.
Oltre al prodotto completo, FSD (Fini Screw Division) propone una vasta gamma di gruppi vite, regolatori di aspirazione, valvole termostatiche ed accessori per lassemblaggio di compressori rotativi.
ROTAR SC 3/4/5
Codice Prodotto Code Product
L x D x H (cm) kgLbs
AVVIAMENTO DIRETTO - SU SERBATOIO | DIRECT STARTING - WITH TANK
270 691VK1A722 SC 308-270 TP 蒕 2,2 3 325 19,5 11.5 8 116 127 x 68 x 150 159 351 2 270 691AV1A722 SC 310-270 TP 2,2 3 290 17,4 10.2 10 145 127 x 68 x 150 159 351 270 691KG1A722 SC 408-270 TP Օ 3 4 390 23,4 13.8 8 116 127 x 68 x 150 165 364 270 691KK1A722 SC 410-270 TP 3 4 355 21,3 12.5 10 145 127 x 68 x 150 165 364 270 691WL1A722 SC 508-270 TP Օ 4 5.5 540 32,4 19.1 8 116 127 x 68 x 150 168 370 270 691CP1A722 SC 510-270 TP 4 5.5 440 26,4 15.5 10 145 127 x 68 x 150 168 370 >
SC 508-270 TP
MC 510
MC 710-270 SS TP = avviamento diretto comandato da pressostato, con protezione termica integrata TP = direct start-up controlled from pressure switch, with integrated circuit-breaker protection >
ROTAR MC 3/4/5/7
Codice Prodotto Code Product
L x D x H (cm) kgLbs
AVVIAMENTO DIRETTO - SENZA SERBATOIO | DIRECT STARTING - WITHOUT TANK
Ֆ 651VK1A722 MC 308 2,2 3 325 19,5 11.5 8 116 52 x 61 x 79 95 209 Ֆ 651AV1A722 MC 310 2,2 3 290 17,4 10.2 10 145 52 x 61 x 79 95 209 Ֆ 651KG1A722 MC 408 3 4 430 25,8 15.2 8 116 52 x 61 x 79 101 223 Ֆ 651KK1A722 MC 410 3 4 385 23,1 13.6 10 145 52 x 61 x 79 101 223 Ֆ 651WL1A722 MC 508 4 5.5 580 34,8 20.5 8 116 52 x 61 x 79 104 229 Ֆ 651KL1A722 MC 510 4 5.5 485 29,1 17.1 10 145 52 x 61 x 79 104 229 Ֆ 651NJ1A722 MC 708 5,5 7.5 760 45,6 26.8 8 116 52 x 61 x 79 111 245 Ֆ 651JN1A722 MC 710 5,5 7.5 690 41,4 24.4 10 145 52 x 61 x 79 111 245 >
AVVIAMENTO SOFT-START - SENZA SERBATOIO | SOFT-START STARTING - WITHOUT TANK
Ֆ 651KG2A722 MC 408 SS 3 4 430 25,8 15.2 8 116 52 x 61 x 79 101 223 Ֆ 651KK2A722 MC 410 SS 3 4 385 23,1 13.6 10 145 52 x 61 x 79 101 223 Ֆ 651WL2A722 MC 508 SS 4 5.5 580 34,8 20.5 8 116 52 x 61 x 79 104 229 Ֆ 651KL2A722 MC 510 SS 4 5.5 485 29,1 17.1 10 145 52 x 61 x 79 104 229 Ֆ 651NJ2A722 MC 708 SS 5,5 7.5 760 45,6 26.8 8 116 52 x 61 x 79 111 245 Ֆ 651JN2A722 MC 710 SS 5,5 7.5 690 41,4 24.4 10 145 52 x 61 x 79 111 245 >
AVVIAMENTO DIRETTO - SU SERBATOIO | DIRECT STARTING - WITH TANK
270 691KV1A722 MC 308-270 Օ 2,2 3 325 19,5 11.5 8 116 127 x 68 x 150 186 410 270 691NX1A722 MC 310-270 2,2 3 290 17,4 10.2 10 145 127 x 68 x 150 186 410 270 691KY1A722 MC 408-270 Օ 3 4 430 25,8 15.2 8 116 127 x 68 x 150 192 423 270 691YK1A722 MC 410-270 3 4 385 23,1 13.6 10 145 127 x 68 x 150 192 423 270 691MC1A722 MC 508-270 Օ 4 5.5 580 34,8 20.5 8 116 127 x 68 x 150 197 434 270 691KL1A722 MC 510-270 4 5.5 485 29,1 17.1 10 145 127 x 68 x 150 197 434 270 691NJ1A722 MC 708-270 Օ 5,5 7.5 760 45,6 26.8 8 116 127 x 68 x 150 204 450 270 691JN1A722 MC 710-270 5,5 7.5 690 41,4 24.4 10 145 127 x 68 x 150 204 450 >
AVVIAMENTO SOFT-START - SU SERBATOIO | SOFT-START STARTING - WITH TANK
270 691KY2A722 MC 408-270 SS Օ 3 4 430 25,8 15.2 8 116 127 x 68 x 150 192 423 270 691YK2A722 MC 410-270 SS 3 4 385 23,1 13.6 10 145 127 x 68 x 150 192 423 270 691MC2A722 MC 508-270 SS Օ 4 5.5 580 34,8 20.5 8 116 127 x 68 x 150 197 434 270 691KL2A722 MC 510-270 SS 4 5.5 485 29,1 17.1 10 145 127 x 68 x 150 197 434 270 691NJ2A722 MC 708-270 SS Օ 5,5 7.5 760 45,6 26.8 8 116 127 x 68 x 150 204 450 270 691JN2A722 MC 710-270 SS 5,5 7.5 690 41,4 24.4 10 145 127 x 68 x 150 204 450 SS = avviamento elettronico progressivo SS = progressive electronic start-up >
Modelli con differenti tensioni e frequenze disponibili a richiesta. Accessori opzionali a pag. 7. | Models with different voltages and frequencies available on demand. Optional accessories at page 7. Օ >
= Non disponibile in pronta consegna. | >
= Not available at stock. FINI S.p.A. - Via Toscana, 21 - 40069 Zola Predosa (BO) - Italy - Tel. +39-051-6168111 - Fax +39-051-752408 - info@finicompressors.com - www.finicompressors.com >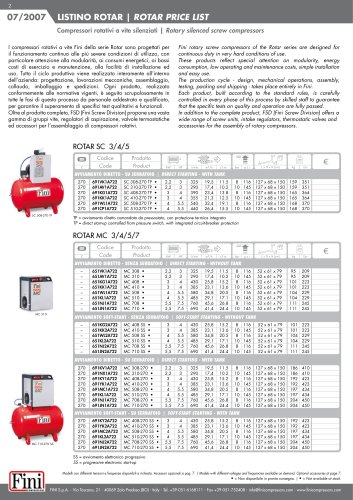 Text version
All FINI catalogues and technical brochures