Booth:
ERIEZ

VIBRATORY FEEDERS AND CONVEYORS -
20 Pages
VIBRATORY FEEDERS
AND CONVEYORS
MODELS HVF, TM, HVC, SM, AND VMC
The new Eriez Model HVF mechanical feeders
are simple, rugged, vibrating machines that
move high volumes of bulk materials reliably and
economically.
The feeder is a two-mass vibrating system,
spring coupled, excited by a motor-driven
eccentric shaft. Adjustable-angle rubber
springs—each one of which can be removed
and replaced in less than two minutes if
required—transmit the exciting force and can
"fine tune" the motion of the trough to optimize
the flow rate for a specific application.
VB-3650R
• Adjustable-angle rubber springs
• Low profi le—minimum headroom
• Flow rates to 60 ft/minute (18mpm)
• Simple, stable, variable controller
ONLY FROM ERIEZ
FEATURES & BENEFITS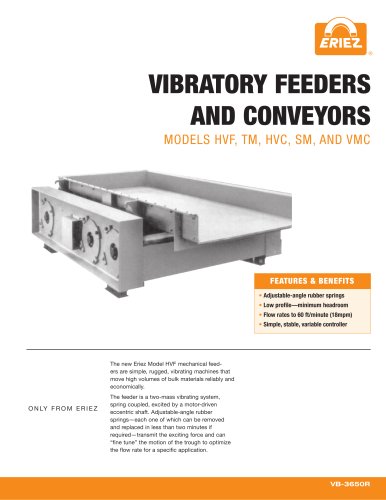 P. 2

2 ©2007 ERIEZ MAGNETICS ALL RIGHTS RESERVEDINTRODUCTION/OVERVIEWAT LAST—THE SIMPLE, HIGHVOLUMEVIBRATING FEEDERThe remarkably compact, straight-line...

P. 3

3* Capacities are based on dry sand weighing 100 lb/cu ft (1600 kg/cu m) and coal weighing 50 lb/cu ft (800 kg/cu m) with the trough at a 10° downslope.Note:...

P. 4

4MODEL HVF – HIGH-VOLUME FEEDERSPECIFICATIONSSPECIFICATIONSModelHVF- W L D BW B E F G H K M N OH R* T Wght KW18 457 914 178 762 914 298 660 279 806...

P. 5

5MODEL HVF –HIGH-VOLUMEFEEDERAnother Model HVS-18, this one with an18" x 36" (457 mm x 914 mm) trough, isfi tted with a coarse wire screen.An...

P. 6

6SIMPLE,HIGH-VOLUMEVIBRATORYCONVEYORSRUGGED, EFFICIENT,HIGH-CAPACITY UNITS FORTHE CONTROLLED MOVEMENTOF LARGE VOLUMES OF BULKMATERIAL.Eriez' Mechanical...
Text version
Archived catalogues