Booth:
ENGEL
ENGEL e-victory injection moulding machine -
13 Pages
51030-0190/ENGEL e-victory_de/010-2011
ENGEL e-victory
ENGEL AUSTRIA GmbH | A-4311 Schwertberg | tel: +43 (0)50 620 0 | fax: +43 (0)50 620 3009
email: sales@engel.at | www.engelglobal.com
be the first.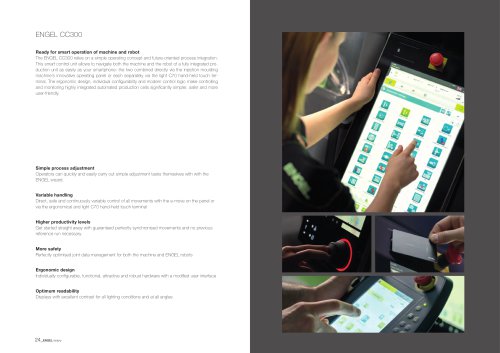 P. 8

| |||||||||||IIIIIIIIIIIIII|||||||||||||||IIIIIIIIII■■■■■ ■■■ ■■■■■ ■■■■■Energy...

P. 9

The "new" hydraulics - ENGEL ecodriveReduction in energy dissipationENGEL ecodrive boosts energy efficiency byradically reducing the energy dissipation...

P. 10

Robots and automation:Increased efficiency due to tie-bar-less technologyThe injection moulding machine is in manycases only one element of the overall,...

P. 11

Market leader and pioneer in multi-colour injection moulding.ENGEL e-victory combiENGEL combimelt – now with the precision of electric injection...

P. 12

Precision in the injection moulding process of all-electric machines The high-precision ENGEL e-victory machine series. The guarantee for top...
Text version
All ENGEL catalogues and technical brochures
Archived catalogues