XA-Series, Air Driven Hydraulic Foot Pumps -
2 Pages
XA-Series, Air Driven Hydraulic Foot Pumps
POWERFUL SOLUTIONS. GLOBAL FORCE.
T Shown: XA11G
• Ergonomie design for less operator fatigue
• Variable oil flow & fine metering for precise control
• Higher oil flow for increased productivity
• Closed hydraulic system prevents contamination and
allows pump usage in any position
• Pedal lock function for retract position
• Ground screw for improved ATEX explosion safety
• External adjustable pressure setting valve.
T Easy operated by foot No need to fully lift up foot - rest bodyweight on heel,
resulting in a handsfree and stabile working position.
100
XVARf
TECHNOLOGY
Productivity
& Ergonomics
®
Optional Pressure Gauge
Integrated gauge with
calibrated scale reading in
bar, psi and M Pa for actual
pressure reading.

 
 

4/3 Control Valve

1 For powering double-

acting hydraulic cylinders

1 and tools.

1

 

 
 

2 Litres Reservoir

Double oil capacity for

powering larger hydraulic

cylinders and tools.

 
Ufi
Pedal Safety Guard
Customer installed frame
protects both pedals
against accidental
activation.
Model Number1
XPG1
"Joy-stick" Lever Kit
Customer installed set
of handles for manual
operation of both pedals.
Model Number1
XLK1
Swivel Connector
Customer installed swivel
connector for optimal
orientation of the
hydraulic hose.
Model Number1
XSC1
Accessories must be ordered separately.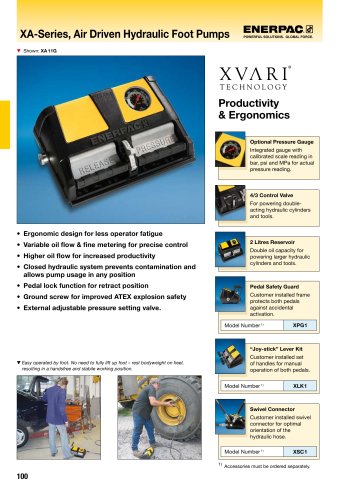 Text version
All ENERPAC catalogues and technical brochures
Archived catalogues