Compressor Handbook -

23

/ 100 Pages
COMPRESSORS
HANDBOOK
Chapter >
G
ENERAL
I
NFORMATION
2.9
WIRING DIAGRAMS
The following pages represent the electrical connections wiring diagrams for all the configura-tions supplied with the compressors. On the wiring diagram, outlined with bold lines are the con-
nections already existing on the electrical components (as supplied to the customer). Dotted lines
represent the main connections which must be made by the customer. These include the thermo-
stat, the supply line and the fan motor, if applicable.The connection screws on overload protectors, relays, terminal boxes and ground plates, are sup-plied with a clamping torque of (0.1 0.3 Nm) (1 3 kgcm). For the final tightening during the
wiring done by the customer, we suggest to apply a torque of 0.5 緷 1 Nm (5 10 kgcm) to the
screws. The final clamping torque of electrical connections screw terminals should conform to
the IEC 685-2-2 standard.
Legend 2
Wiring Diagram
Overload Protector Integrated PTC Device Overload Protector >
S R S R 1 Current Start Relay Current Start Relay with Capacitor Connections >
1 2 3 4 5 5 2 2 1 3CR Current Start Relay >
4 4 1 3ARR3 Start Relay >
S R PTC Start Device Run Capacitor Run Capacitor
(mandatory - not supplied) Optional Run Capacitor Start Capacitor >
M Fan Lamp Pushbutton >
CSR 3-Phase Motor >
S RC Single Phase Motor Low-High Pressure Switch >
t Thermostat Earth Connection 3-Phase Supply Pilot Circuit 24 or 220 V Single Phase Supply >
C Common >
C' Common (Internal Overload Protector) >
R Run >
S Start >
1NL Terminal Block >
Wh White Cable >
Br Brown Cable >
Bl Blue Cable >
Bk Black Cable >
YG Yellow-Green Cable >
Re Red Cable Connections supplied Connections to be made by the Customer (not supplied) Doc. Code Emission Revision Date Page MP01EF2000-04 052006-01 22 -98 >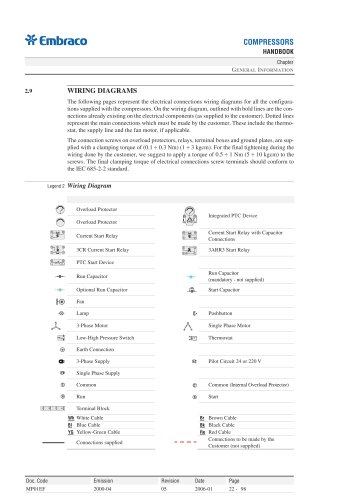 Text version
All EMBRACO catalogues and technical brochures
Archived catalogues