Power capacitors Complete Catalogue (English/German) -

43

/ 82 Pages
Sets for
L/M Capacitors (Protection: IP20)
IP20 Widerstandsmodule für
L/M
resistance
Widerstand (kO)
3 × 82
3 × 120
3 × 180
3 × 300
order no.
Bestellnummer
275.100-10082
275.100-10120
275.100-10180
275.100-10300
15,2
pieces/box
Stück/box
10
10
10
10
24
27
15
15,2
Umax
(V)
400
480
600
760
3 × 166µF
2 x 25kvar 400V 50Hz (2 x 275.186-516600)
3 × 332µF
resistance
Umax
Widerstand (kO) (V)
3 × 68
440
3 × 82
480
3 × 100
530
3 × 120
600
3 × 120 (Y)
850
3 × 180
720
3 × 180 (Y)
1000
3 × 300 (Y)
1000
15.2
275.100-10120: 50s
275.105-10082: 33s
275.105-10068: 55s
order no.
Bestellnummer
275.105-10068
275.105-10082
275.105-10100
275.105-10120
275.106-10120
275.105-10180
275.106-10180
275.106-10300
15.2
pieces/box
Stück/box
10
10
10
10
10
10
10
10
ACCESSORIES_ZUBEHÖR
25kvar 400V 50Hz (275.186-516600)
24
15
discharge Entladung <50V
Für die gemeinsame Entladung parallel geschalteter Kondensatoren (Leistungen >40kvar) sind die folgenden Module vorgesehen. Darüber hinaus
können sie gemäß den o.a. Formeln für eine beschleunigte Entladung von
Einzelkondensatoren herangezogen werden.
48
The following resistor modules have been designed for use with capacitors
combined in parallel (total power >40kvar). Alternatively, they may be used
for accelerated discharge of standard capacitors.
45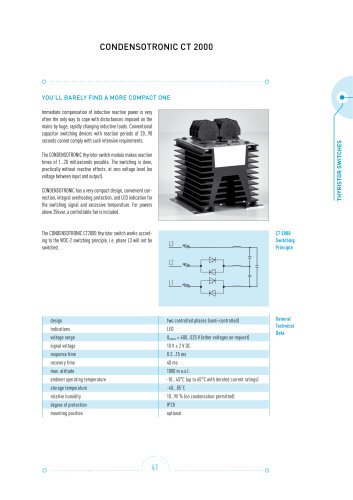 Text version
All ELECTRONICON Kondensatoren GmbH catalogues and technical brochures