Booth

Eaton Moeller
Group: EATON


Main Catalogue Industrial Switchgear 2004/2005 -
1257 Pages
6/18 Thermal overload relay for machine protection

Moeller HPL0211-2004/2005

Rated operational current

Conventional thermal current

Rated control voltage

Us V

Price Std. See Price pack List

Description

Type

Article no.

AC-15 AC-14 Ith 240 V 400 V A

AA

Vi

>> iE ^_

T3

> o

Thermistor overload relays for machine protection

Without automatic reset Mains and fault LED display

Without automatic reset Mains and fault LED display Trip with short-circuit in the sensor cable

1 off

3

3

6

24 - 240 V 50/60 Hz, EMT6 24 - 240V DC 066166

24 - 240 V 50/60 Hz, EMT6-K 24 - 240 V DC 269470

Without automatic reset Mains and fault LED display

230 V 50/60 Hz EMT6(230V)

066400

24 - 240 V 50/60 Hz, EMT6-DB 24 - 240 V DC 066167

Selector switch with/without automatic reset

For manual or remote resetting Test button

Mains and fault LED display

Selector switch with/without automatic reset

For manual or remote resetting Test button

Mains and fault LED display

Trip with short-circuit in the sensor cable

Selector switch with/without automatic reset

For manual or remote resetting Test button

Mains and fault LED display

Multifunction device

Selector switch with/without automatic

reset

Trip with short-circuit in the sensor cable

Zero-voltage safe

For manual or remote resetting

Test button

Short-circuit recognition and zero-voltage safety can be deactivated Mains and fault LED display

24 - 240 V 50/60 Hz, EMT6-KDB 24 - 240 V DC 269471

'■BS.AS

230 V 50/60 Hz

EMT6-DB(230V)

066401

24 - 240 V 50/60 Hz, EMT6-DBK

24 - 240V DC 066168

Accessories

Screw adapter For screw fixing

1 off

CS-TE

095853

Documentation

EMT6 thermistor overload relay

Overload monitoring of machines in the EEx e area

1 off

German

AWB2327-1446D

264853

AWB2327-1446GB

267010

English

1 off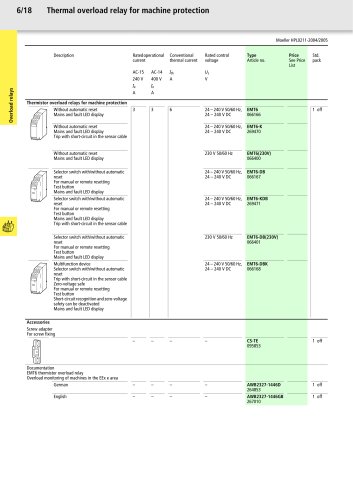 P. 373

6/12 Overload relays Z5 overload relays, ZW7 current transformer-operated overload relays Overload relays 6/13 Z5 overload relays, ZW7 current...

P. 374

6/14 Description Overload relays

P. 375

ZEV electronic motor-protective relay 6/15 Moeller HPL0211-2004/2005 Length Overload releases For use with Fault current ...

P. 376

6/16 Overload relays Selection aids Moeller HPL0211-2004/2005 L1-L2-L3-N - Meny Class Z1 5|10|15|20 Till...

P. 377

Overload relays Selection aids 6/17 Moeller HPL0211-2004/2005 Tripping times for ZEV electronic motor-protective relay Tripping...

P. 379

Thermal overload relay for machine protection 6/19 Moeller HPL0211-2004/2005 Terminal marking according to EN 50005 Notes Flow...

P. 380

6/20 Accessories Overload relays Mueller HHI1211-2004/2005 Artide no SfflPrke 5td. pack Documentation ...

P. 381

Accessories 6/21 Overload relays Moeller HPL0211-2004/2005 For use with Type Price Article no. See Price List Std....

P. 382

6/22 Technical data Features Moeller HPL0211-2004/2005 Selection data ZE ZB12 ZB32 ZB65 Z00 Z1 Z5 ZW7 ZEV Phase-failure...

P. 383

Technical data 6/23 Tripping characteristic Moeller HPL0211-2004/2005 These tripping characteristics are mean values of the spread at...
Text version
All Eaton Moeller catalogues and technical brochures
Archived catalogues