Booth

Eaton Moeller
Group: EATON


Main Catalogue Industrial Switchgear 2004/2005 -
1257 Pages
Overload relays
Selection aids
6/17
Moeller HPL0211-2004/2005
Tripping times for ZEV electronic motor-protective relay
Tripping class, CLASS can be selected

5

10

15

20

25

30

35

40

Tripping time in s (±20 %)

With 3-pole symmetric loading

from cold state

Setting current 1E x 3

11.3

22.6

34

45.3

56.6

67.9

79.2

90.5

x 4

8

15.9

23.9

31.8

39.8

47.7

55.7

63.6

x 5

6.1

12.3

18.4

24.6

30.7

36.8

43

49.1

x 6

5

10

15

20

25

30

35

40

x 7.2

4.1

8.2

12.3

16.4

20.5

24.5

28.6

32.7

x 8

3.6

7.3

10.9

14.6

18.2

21.9

25.5

29.2

x 10

2.9

5.7

8.6

11.5

14.4

17.2

20.1

23

Recovery time after overload trip

(Overview of the recovery time in min)

CLASS

5

10

15

20

25

30

35

40

^recovery

5

6

7

8

9

10

11

12
>> .2 ^_
T3
tu _o
> o
[min]
With unbalance > 50 % and with phase failure the trip occurs in 2.5 s
Thermistor tripping
Rated trip resistance R = 3200 O ±15 %
Recovery resistance R = 1500 O +10 %
Total PTC thermistor resistance S RK F 1500 O at RK F 250 O per sensor: 6 sensors at RK F 100 O per sensor: 9 sensors
Ready to respond after trip at 5 K under response temperature
Test button tripping time: 5 s
EC prototype test certification number: PTB 01 ATEX 3233 For protection of motors in EEx e area, also order
AWB2300-1433G "ZEV motor-protective system, Overload monitoring of motors in EEX e areas".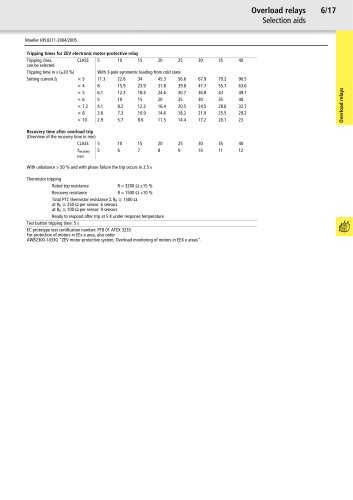 P. 372

6/10 Overload relaysZ1, Z5 overload relaysOverload relays 6/11Z1, Z5 overload relaysMoeller HPL0211-2004/2005Moeller HPL0211-2004/2005Overload releases...

P. 373

6/12 Overload relays Z5 overload relays, ZW7 current transformer-operated overload relays Overload relays 6/13 Z5 overload relays, ZW7 current...

P. 374

6/14 Description Overload relays

P. 375

ZEV electronic motor-protective relay 6/15 Moeller HPL0211-2004/2005 Length Overload releases For use with Fault current ...

P. 376

6/16 Overload relays Selection aids Moeller HPL0211-2004/2005 L1-L2-L3-N - Meny Class Z1 5|10|15|20 Till...

P. 378

6/18 Thermal overload relay for machine protection Moeller HPL0211-2004/2005 Rated operational current Conventional thermal current...

P. 379

Thermal overload relay for machine protection 6/19 Moeller HPL0211-2004/2005 Terminal marking according to EN 50005 Notes Flow...

P. 380

6/20 Accessories Overload relays Mueller HHI1211-2004/2005 Artide no SfflPrke 5td. pack Documentation ...

P. 381

Accessories 6/21 Overload relays Moeller HPL0211-2004/2005 For use with Type Price Article no. See Price List Std....

P. 382

6/22 Technical data Features Moeller HPL0211-2004/2005 Selection data ZE ZB12 ZB32 ZB65 Z00 Z1 Z5 ZW7 ZEV Phase-failure...
Text version
All Eaton Moeller catalogues and technical brochures
Archived catalogues