Booth

Eaton Moeller
Group: EATON


Main Catalogue Industrial Switchgear 2004/2005 -
1257 Pages
Switchgear for North America
Enclosure protection types to NEC (NFPA 70), UL, CSA, NEMA
19/19
Moeller HPL0211-2004/2005
Enclosures

Enclosure and ingress protection marking to

Installation site

Type of protection

Comparable IP rating3'

NEC NFPA 70')

NEMA No. 250-1997, Appendix A2) UL 50

CSA-C 22.2 No. 94

Type 1 General use

Indoor installation

Protection against accidental contact with live parts and against a limited amount of falling dirt.

IP 20

Type 2 Drip-tight

Indoor installation

Protection against limited amounts of falling water and dirt

IP 22

Type 3

Dust-tight, rain-tight, resistant to hail and ice

Outdoor installation

Protection against wind-blown dust and wind-blown rain; undamaged by formation of ice on the enclosure

IP 54

Type 3R

Rain-tight, resistant to hail and ice, dust-tight

Outdoor installation

Protection against falling rain; undamaged by formation of ice on the enclosure

IP 14

Type 3S

Dust-tight, rain-tight, resistant to hail and ice

Outdoor installation

Protection against hail wind-blown dust and wind-blown rain; External mechanisms remain operable while ice laden.

IP 54

Type 4

Dust-tight, water-tight, rain-tight

Indoor or outdoor installation

Protection against falling rain, splashing water and hosed water; undamaged by formation of ice on the enclosure

IP 56

Type 4X

Dust-tight, water-tight, corrosion-resistant, rain-tight

Indoor or outdoor instalͭlation

Protection against falling rain, splashing water and hosed water; undamaged by formation of ice on the enclosure, corrosion protection

IP 56

Type 6

Rain-tight, water-tight, immersible, resistant to hail and ice

Indoor or outdoor installation

Protection against dust and hosed water; protection against entry of water during temporary limited submersion; undamaged by formation of ice on the enclosure

IP 67

Type 6P

Rain-tight, water-tight, submersible, corrosion-resistant

Indoor or outdoor instalͭlation

Protection against entry of water during prolonged submersion at limited depths; corrosion-resistant

IP 67

Type 5

Drip-tight, dust-tight, corrosion-resistant

Indoor installation

Protection against limited amounts of falling water and dirt; corrosion-resistant

IP 52

Type 12

For use in industry, drip-tight, dust-tight

Indoor installation

Protection against dust and dripping water

IP 52

Type 12K4) As Type 12

Indoor installation

As Type 12

IP 52

Type 13

Dust-tight, oil-tight

Indoor installation

Protection against entry of dust, splashing water, oil and non-corrosive fluids.

IP 54
+j
cu
E
^_ o S ^_ o
vi tv > o
^_
Q. Q.
<
1) NEC = National Electrical Code
2) NEMA = National Electrical Manufacturers Association
3) The IP rating provided as an approximate comparison. A more accurate comparison is not possible, since different ingress protection tests and assessment criteria apply. The NEMA types cover the corresponding IP ratings but not the other way round.
In general, NEMA/UL enclosure protection testing is subject to stricter criteria.
4) For enclosures with knockouts.
Notes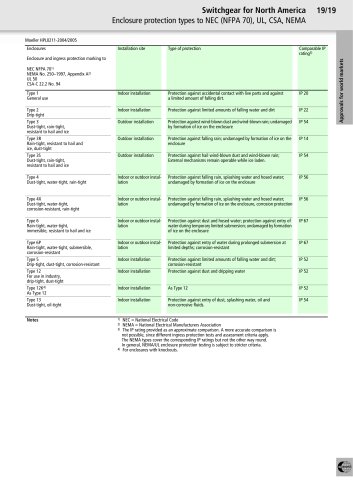 P. 1179

19/14 Switchgear for North America Approvals Moeller HPL0211-2004/2005 In the USA, the legally established OSHA (Occupational Safety and...

P. 1180

Switchgear for North America Selection of devices 19/15 Moeller HPL0211-2004/2005 that starters must be fitted with the AK-PKZ0 rotary...

P. 1181

19/16 Switchgear for North America Selection of devices Moeller HPL0211-2004/2005 P 1 and P 3 can be used as main switches in motor circuits...

P. 1182

Switchgear for North America Switching capacities of auxiliary switches, ratings of 3-phase contactors to NEMA 19/17 Moeller HPL0211-2004/2005...

P. 1183

19/18 Switchgear for North America Selection and usage of fuses Moeller HPL0211-2004/2005 Type1' Construction1' in USA Applications1'...

P. 1185

19/20 Automation systems MI4, MV4 display and operator units MoelferHPL02t1-20040005 Rating data for Function Power supply Inputs...

P. 1186

RMQ control circuit devices 19/21Moeller HPL0211-2004/2005UL-File No. 29184Pilot DutyGeneral UseTerminal capacityRating data for UL/CSA-approved types1)RMQ16...

P. 1187

19/22 Position switches LS, AT position switches, screw connectors Moeller HPL0211-2004/2005 UL-File No. E29184 Pilot Duty General...

P. 1188

Pressure switch 19/23 MC5(N} Pressure switches erHPL0211-2004'2005 ved types to UL/CSA« See Price Std. pad MCS IP...

P. 1189

19/24 Contactor relays DILER, DILR contactor relays; DILET, ETR4 timing relays Moeller HPL0211-2004/2005 Rating data for approved types1'...
Text version
All Eaton Moeller catalogues and technical brochures
Archived catalogues