Booth:

Eaton Hydraulics
Group: Eaton Hydraulics

Guide to Aeroquip products - Master Catalog -
388 Pages
SPECIALTY &
TRUCK HOSE
F2015
SOCKETLESS fitting bench mounted
assembly machine
Hose Specifications
Ordering Instructions
• SOCKETLESS hose,
all sizes
F2015
Complete
machine
Features
LOW & MEDIUM
PRESSURE HOSE
• Fast, hand assembly
• Bench mounted
• Hose is securely held
• Mandrels included
HIGH PRESSURE HOSE
FT1081
PTFE hose assembly tool kit
Hose Specifications
HOSE FITTINGS
Smooth Bore PTFE Hose,
–03, –04, –05, –06, –08,
–10 and –12 hose.
FT1090–3–10–4 and
FT1090–3–10–5 are useful
wire flare tools to use in
conjunction with kit
FT1081.
Ordering Instructions
FT1081 Complete tool kit
Includes:
FT1081–3–1
mandrel holder
FT1081–3–2–3
mandrel –3 hose
FT1081–3–2–4
mandrel –4 hose
FT1081–3–3–5
mandrel –5 hose
FT1081–3–4–6
Features
• Inexpensive
• Easy to use
• Seats PTFE tube
against sleeve
mandrel –6 hose
FT1081–3–5–8
mandrel –8 hose
FT1081–3–6–10 mandrel –10 hose
FT1081–3–7–12 mandrel –12 hose
mandrel –16 hose
FT1081–20
ADAPTERS &
TUBE FITTINGS
FT1081–16
mandrel –20 hose
FT1038A
PTFE hose tool
ACCESSORIES &
ASSEMBLY INSTRUCTIONS
Hose Specifications
• Smooth bore PTFE
Hose, –03, –04, –05,
–06, –08, –10 and –12
Ordering Instructions
FT1038A PTFE Hose Tool (–03 thru –12)
FT1038B PTFE Hose Tool (–16, –20)
Features
• Small
HOSE ASSEMBLY
EQUIPMENT
• Hand held tool
APPENDICIES
336
EATON Aeroquip Fluid Conveyance Products A-HOOV-MC001-E1 March 2011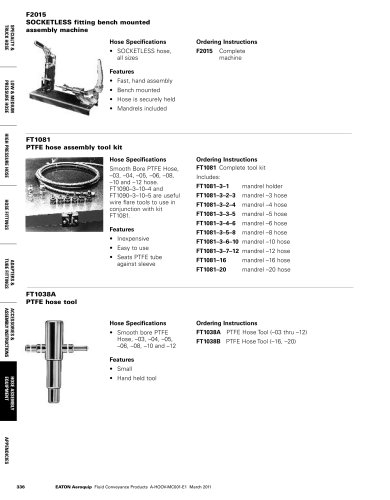 P. 337

Crimp Cages for FT13907,09,012,015,018,021,024,028,032,037,042,046,552,055,069,0to 9,0to 12,0to 15,0to 18,0to 21,0to 24,0to 28,0to 32,0to 37,0to 42,0to...

P. 338

Reusable Assembly EquipmentSPECIALTY &TRUCK HOSEFT1097Portable reusable hose assembly machineFitting SpecificationsLOW & MEDIUMPRESSURE HOSE•...

P. 339

Fitting SpecificationsSPECIALTY &TRUCK HOSEFT1013Portable reusable hose assembly machineOrdering InstructionsBase machine, 110V, with viseFT1013–1–6Base...

P. 340

SPECIALTY &TRUCK HOSEFT1028Production reusable hose assembly machineFitting Specifications• Screw together fittings—Fabric or wire braided...

P. 341

FT1095Elbow reusable fitting holdersSpecificationsThe Eaton designed FT1271 split flange tooling isspecifically designed for the FT1028 assembly machine.This...

P. 343

SpecificationsOrdering InstructionsFT1258 bench mounted cutoff tool. A bench mountedcutter for in-plant production of Polyon hose assemblies and other...

P. 344

SPECIALTY &TRUCK HOSES1104Hose cut off machineHose SpecificationsElectrical Requirements• Single and DoubleWire Reinforced,1/ " to 3"...

P. 345

S1102* Includes: BasicCut Off andSkiving MachineBlade SelectionS1043* Collector andTableFeatures• Fast, efficient hosecutting• 10" cutting...

P. 346

Skiving EquipmentSPECIALTY &TRUCK HOSEFor skiving rubber covered wire reinforced hosesSkiving ToolsWhen selecting skive tools, refer to Eaton documentA-EQCR-TM001-E...

P. 347

• Air regulator and gaugeprovide easy pressureadjustment and monitoring• Tough transparentLexan* lid• 79" x 36" x 53"...
Text version
All Eaton Hydraulics catalogues and technical brochures
Archived catalogues