WL16 -
4 Pages
m WL16
i::::i Max Flow: 100 gpm (380 Ipm)
jgl Donaldson.
■Vf FILTRATION SOLUTIONS
WL16 In Tank Filters
Working Pressures to:
Rated Static Burst to:
Flow Range to:
200 psi
13.8 bar
300 psi
21 bar
100 gpm
380 Ipm
Features
WL16 in-tank filters meet the HF-4 automotive standard. The quick disconnect
cover allows for easy and efficient filter change-outs. An optional secondary
inlet port offers the use of a second return line. These units can be top or side
reservoir mounted. Use the optional anti-backflow valve when installing this
filter assembly to the side of a reservoir. DT high-performance replacement
filters are available in five different media grades to fit any application.
Beta Rating
• Performance to B<4(C)=1000
Porting Size Options
• VA" NPT
• SAE-24 O-ring
• V/i" SAE 4-Bolt Flange Code 61
Replacement Filter Lengths
• 9" / 229 mm
• 18"/457 mm
• 27"/686 mm
Filter Collapse Ratings
• 150 psidl 1034 kPa/10.3 bar
Standard Bypass Ratings
• 50 psi / 345 kPa /3.5 bar
• 25 psi /172.5 kPa /1.72 bar
Assembly Weight
• Length 3, 5.25 lbs/2.3 kg
• Length 6, 16 lbs/7.3 kg
• Length 7, 23 lbs /10 kg
Operating Temperatures
• -45° to 250°F (-43° to 121°C)
72 • Hyd raulic Filtration
www.buydonaldson.com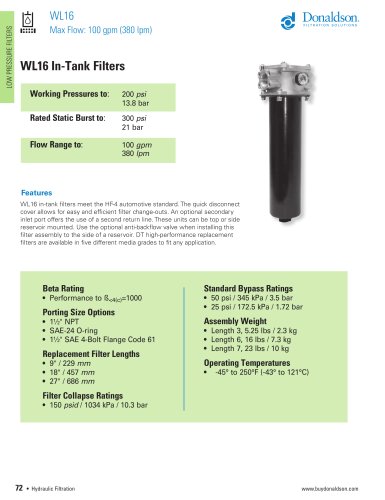 Text version
All DONALDSON catalogues and technical brochures