Hydraulic Winches -

2

/ 64 Pages
2
1.0 GENERALITA' 1.0 INTRODUCTION
The Dinamic Oil range of lifting winches comprises the
following models:
• NP series with line pull (last layer) from 400 a 1350 daN
• A series with line pull (last layer) from 1360 a 2645 daN
• P series with line pull (last layer) from 600 a 1950 daN
• S - SE series with line pull (last layer) from 1570 a 4500 daN
• SR series with line pull (last layer) from 6000 a 10000 daN
• SW series with line pull to request.
The NP and A winches were designed for applications
that require an extremely compact product. This is
achieved by integrating the drum and the ring gear as
one.
The P series, achieved success on the market through
their original design and compactness; the gears, the
brake, the lowering control valve and the motor are
housed inside the drum.
As a last issue there is the S - SE series that continues
the tradition of compactness of our winches, improving
performances (by introduction noticeable of the axial piston
motor, and the adoption of many reduction stages),
and quality.
The SR series winches are designed using the RW gearboxes.
These units are compact and come with a hydraulic
limit switch for both hoisting and lowering.
Dinamic Oil designs all its winches in conformity with the
UNI ISO 4301/1 regulations and subject them to scrupulous
tests to make them safe, reliable in time, and optimally
performing, in every condition.
Following the directions of The Machine Directive, Dinamic
Oil can supply on request version winches,
completed with a special security system, composed of
a strain gauge limiting device, cable tensioner and drum
limit switch.
This renders the product unique and flexible, and adaptable
to the market trends.
Dinamic Oil's lifting winches are manufactured with the
maximum care and tested one by one with loads heavier
than the winches actual maximum pull.
La gamma degli argani Dinamic Oil si articola nei seguenti
modelli:
• Serie NP con tiri (all'ultimo strato) da 400 a 1350 daN
• Serie A con tiri (all'ultimo strato) da 1360 a 2645 daN
• Serie P con tiri (all'ultimo strato) da 600 a 1950 daN
• Serie S - SE con tiri (all'ultimo strato) da 1570 a 4500 daN
• Serie SR con tiri (all'ultimo strato) da 6000 a 10000 daN
• Serie SW con tiri a richiesta
Le serie NP e A sono state studiate per applicazioni su
gru di dimensioni particolarmente compatte, ed hanno la
peculiarità di avere la corona del riduttore epicicloidale
integrata nel tamburo dell'argano.
La serie P si è affermata sul mercato per l'originale concezione
e per la sua compattezza. All'interno del tamburo
sono allocati l'ingranaggeria, il freno, la valvola controllo
discesa ed il motore.
La serie S - SE prosegue la tradizione degli argani compatti
ed allo stesso tempo migliora decisamente le prestazioni
(introduzione di motore a pistoni assiali sulla gamma
alta, adozione di più stadi di riduzione) e la qualità.
La serie SR è stata realizzata utilizzando i gruppi ruota
RW della gamma power transmission Dinamic Oil. Tali
argani si prestano all'utilizzo di un funzionale e compatto
sistema di fine corsa idraulico sia in salita che in discesa.
Tutti gli argani Dinamic Oil sono progettati in conformità
alle Norme UNI ISO 4301/1, subiscono un attento e scrupoloso
collaudo che consente un'ottima affidabilità nel
tempo per ogni applicazione.
In base alla Direttiva Macchine, Dinamic Oil fornisce, a
richiesta, gli argani in conformazione , con l'applicazione
dell'originale sistema elettronico di limitazione del
tiro, del pressacavo e del micro di fine corsa.
Un elemento di distinzione che contraddistingue la necessità
di seguire sempre le tendenze del mercato.
Gli argani prodotti da Dinamic Oil vengono realizzati con
la massima cura e collaudati singolarmente, mediante
prove di sollevamento, utilizzando carichi sempre superiori
rispetto al tiro massimo nominale.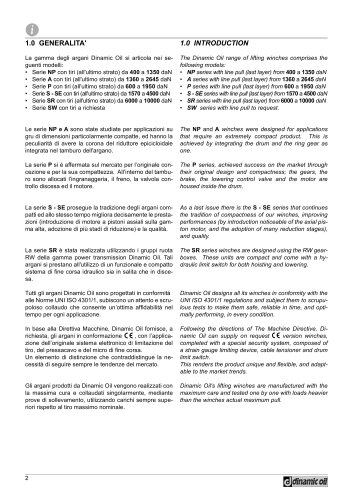 Text version
All DINAMIC OIL catalogues and technical brochures
Archived catalogues