1013M The marine engine -

3

/ 8 Pages
Type of cooling: 1) Two-circuit cooling as indirect cooling with mounted sea water heat exchanger,
coolant circulation pump, compensation tank, thermostats and raw water pump
2) K..........Keel cooling with coolant circulation pump and integrated thermostats
Crankcase: raised cast-iron crankcase; structure capable of supporting block construction, "wet" (exchangeable) liners
Crankcase
breather: closed breather
Cylinder head: cast iron block head
Valve arrangement/ one inlet and outlet valve, actuated by tappets, push-rods and rocker arms, gear driven
control: camshaft drive
Piston: three-ring piston: two compression rings, one oil wiping ring
Piston cooling: by cooling oil by means of spray nozzles
Con rod: made of forged steel
Crankshaft: drop forged with integrated counterweights
Crankshaft and
big end bearing: tri metal plain bearing
Camshaft: steel camshaft
Turbocharging: water-cooled turbocharger, MC/MCP engines with charge air cooler
Exhaust pipe:. . . . . .water-cooled exhaust manifold
Torsional vibration
damper:. . . . .viscosity vibration damper.
Lubricating oil pressure circulation lubrication with gear pump, lubricating oil cooler integrated in the engine,
system: paper fine filters exchangeable cartridge in the main lubricating oil stream, duplex change over filter optional
Injection pump/ single injection pumps for every cylinder arranged in the crankcase with mechanical
controller: engine governer
Injection lines: double walled injection lines for high pressure injection as an option
Fuel system: fuel supply pump integrated into the V-belt clamping roller, exchangeable cartridge.e.e.e.e. for fuel filter,. . . . . .duplex change over filter optional
Generator: three-phase current generator, 14 V or 28 V, 2-pole
Starter: electric starter, 12 V or 24 V, 2-pole
Heater: connection possibility for heater or hot water boiler to the engine cooling circuit
Range of variants: . . . . . . . .compressor, hydraulic pumps, flywheels 10"/111/2" standard, 14" optional, connection housing SAE 3 standard, SAE 2 and 1 optional, oil pans, cold start devices, air filters, engine feet, starters, generators
Water-cooled, four-stroke, 4 and 6-cylinder in-line engines | water-cooled turbocharger and exhaust pipes | gear-driven power take-offs | modern high-pressure injection system with single injection pumps | charge air cooling by engine coolant in keel cooled configuartion or raw water cooled | compact dimensions | easily accessible maintenance and service points on one side of the engine
• High operating economy due to low fuel and oil consumption.
• A compact design makes installations easy and saves installation costs.
• Intelligent concept with identical components saves costs for repairs and general overhauling.
• Low noise emissions eliminate complex attenuation.
• Classification by all leading classification societies.
• All 1013M engines comply with IMO directives. Engines with charge air cooler (MC/MCP) fulfil ZKR II, EU Stage II (2004/26/EC) and US-EPA Marine Tier 2.
• The particle emissions in the MC and MCP engine types fall below the limit value specified in the German ZKR II by 30 %.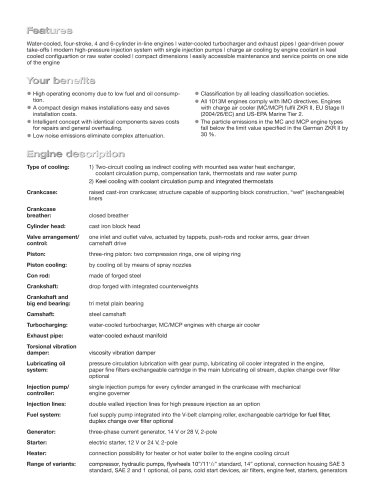 Text version
All DEUTZ catalogues and technical brochures