Det-Tronics Product Catalog -

52

/ 229 Pages
Accessories
Q1113 Universal Air Shield Assembly
Model
Part Number
Air Connection
Air Supply
Air Requirement
Ship Weight
Q1113A1001
004273-002
1/4 in OD nylon tubing
5-15 psi
3 cfm minimum
1 lb (0.45 kg)
Q1115 Universal Air Shield/Range Mount Assembly
Model
Part Number
Material
Air Connection
Air Supply
Air
Requirement
Q1115A1001
006528-001
SS
1/4 in OD nylon tubing
5-15 psi
3 cfm minimum
2 lb (0.9 kg)
Q1115A1002
006528-002
AL
1/4 in OD nylon tubing
5-15 psi
3 cfm minimum
1 lb (0.45 kg)
Ship Weight
Q1116 Universal Air Shield Assembly
Model
Part Number
Air Connection
Air Supply
Air
Requirement
Ship Weight
Q1116A1001
007240-001
1/4 in OD nylon tubing
12-20 psi
3 cfm minimum
2 lb (0.9 kg)
Q1118 Universal Air Shield/Flange Mount Assembly
Model
Part Number
Material
Air Connection
Air Supply
Air
Requirement
Ship Weight
Q1118A1001
007818-001
AL
1/4 in OD
nylon tubing
10-30 psi
3-20 cfm target
2 lb (0.9 kg)
Q1118S1001
007818-002
SS
1/4 in OD
nylon tubing
10-30 psi
3-20 cfm target
6 lb (2.75 kg)
NOTE: Note compatible with Q9033
Q1198 Dual Air Shield/Flange Mount Assembly for X9800
Model
Part Number
Material
Air Connection
Air Supply
Air
Requirement
Ship Weight
Q1198A1001
009199-001
AL
6 mm OD
nylon tubing
10-20 psi
3-5 cfm min
2 lb (0.9 kg)
NOTE: Note compatible with Q9033
Q2000 X-Series Weather Shield
Model
Q2000A1001 X-Series Weather Shield
Part Number
007338-001
Material
AL
Ship Weight
1 lb (0.45 kg)
Q2033 FOV Limiter for X3301 and X3302
Model
Part Number
Material
Ship Weight
Q2033A10R 10° FOV Limiter for X3301/X3302
Q2033A20R 20° FOV Limiter for X3301/X3302
Q2033A30R 30° FOV Limiter for X3301/X3302
Spare Restrictor Plate 10 degree FOV
Spare Restrictor Plate 20 degree FOV
Spare Restrictor Plate 30 degree FOV
007338-010
007338-020
007338-030
007912-010
007912-020
007912-030
AL
AL
AL
AL
AL
AL
1 lb (0.45 kg)
1 lb (0.45 kg)
1 lb (0.45 kg)
<1 lb (<0.45 kg)
<1 lb (<0.45 kg)
<1 lb (<0.45 kg)
8/01/2011
52-1002-8.1
Accessories
Flame K.4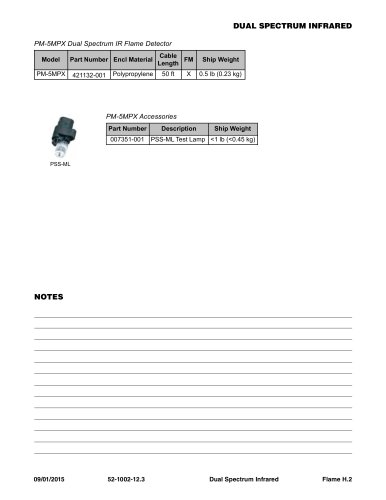 P. 47

Smoke DetectorsU5005 and U5006 Smoke DetectorsU5005 Smoke Detector (Spec Sheet: 90-1101) is a sensitive, yet rugged, state-of-the-artprotection device...

P. 48

Smoke DetectorsU5005 Smoke DetectorModelPart NumberHousingMaterialU5005A1001U5005A1002U5005A1004U5005A1001-RU5005A1004-R004784-007004784-008004784-009004784-908004784-909J-boxMaterial...

P. 49

AccessoriesTest LampsW8066 Portable UV Test Lamp (Spec Sheet: 90-1055) is used for on-site testing of all UVdetector types. It replaces W866. Consists...

P. 50

AccessoriesLaser, Laser Holder, W6300 Detector InspectorLaser is for use with the Q1201A and Q1201C Laser Holder in sighting and testing the areaof flame...

P. 51

AccessoriesDetector HardwareQ1113A Universal Air Shield Assembly (Manual: 95-8321). Use on UV, IR, and UV/IRdetectors (C7050A, B and H, C7051, C7052, C7098,...

P. 53

AccessoriesDetector Mounting HardwareQ9001B (Manual: 95-8338) Aluminum swivel for positioning the C7050 and X7050.Q9001H (Manual: 95-8338) Stainless steel...

P. 54

AccessoriesPower Supplies000507-005 and 000507-006 24 Vdc Power Supplies (Spec Sheet: 90-1035). Openframe construction and designed to operate on 120/240...

P. 55

AccessoriesOutput Devices for R7XXX ControllersR1425 Rack Mount Detonator Module (Spec Sheet: 90-1021) for high-speed extinguishingsystems. Features two...

P. 56

AccessoriesNotes8/01/201152-1002-8.1AccessoriesFlame K.8

P. 57

ControllersR74XX ControllersThe R7404 Controller (Spec Sheet: 90-1014) provide fast, reliable flame detection in a widevariety of applications. The microprocessor-based...
Text version
All Detector Electronics Corp. (Det-Tronics) catalogues and technical brochures