Booth:
D.Electron
3-axial Accelerometer Brochure -
2 Pages
D.Electron 3-AXIAL ACCELEROMETRIC TRANSDUCER
"0
r-t»
3 »-t-
"D
CD 3
a
5'
ro o o
Developed within the ECOFIT European research project, the D.Electron 3-axial accelerometer has been designed to be the transducer of a system capable of eliminating unwanted structural flexures, not
measurable with conventional linear scales, by means of special control algorithms.
It is composed of two parts, a remote unit and a local unit.
• Remote unit: is the "sensor"
unit. It can be mounted in any desired point of the structure.
• Local unit: is the "receiver". Its output is a standard encoder signal (compatible with every motion system control).
• A standard Ethernet cable
connects the remote and the local units.
Ethernet Cable
Electrical cabinet
Spindle
jRemote Unit
Encoder Input
Machine Upright
.Local Unit
Example of application: measurement of true spindle position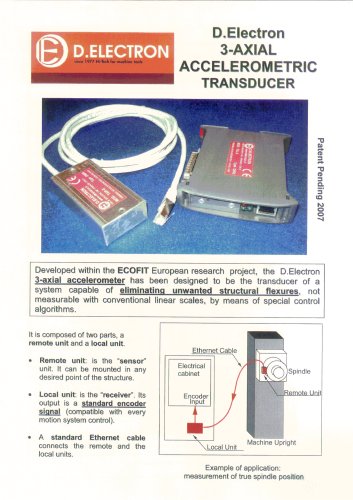 P. 2

Fields of application D.Electron has designed this brand-new transducer with the idea of realizing an accelerometer: • 3-Axial simple and...
Text version
All D.Electron catalogues and technical brochures
DSM Series

1 Pages
Archived catalogues