Booth:

Crompton Instruments
Group: TE Connectivity
Analogue Instruments -
86 Pages
48
360° Rotary Synchroscope
Product Codes – Pivot and Jewel
Rating, self-contained: 120V AC
Frequency rating: 50 or 60Hz (specify), 400Hz optional
Normal operating position: On vertical panel unless otherwise specified at time
of order
Position influence: Not more than 3.6 mechanical degrees deviation for
up to 60° tilt from normal operating position.
Accuracy: 2 degrees
Overshoot: 33% maximum
Response time: 3 seconds maximum for 180° deflection
Sensitivity at synchronism: 3 electrical degrees maximum
External field influence: 3% maximum in 5 oersted field
Pull in frequency: 58Hz
Drop-out frequency: 57Hz
Dielectric test: Live parts to case, including panel: 2600V RMS
for 1 minute.
Between running and 1500V RMS for 1 minute
incoming circuits:
Overload capacity: 50% indefinitely
Characteristics Incoming circuit Running circuit
Impedance ohms: 4670 5335
Resistance ohms: 4020 5240
Resistance ohms: 2380 1058
Reactive volt amps: 1.57 0.535
Volt-amps: 3.08 2.7
Power factor: 0.86 0.98
Watts: 2.66 2.65
360° Rotary Synchroscope
For connection diagrams, see Fig. 10 on page 59.
4 12" square flange 8 34" square flange
Rating Scaling* Standard case Sealed case hi-shock Standard case
catalogue no. catalogue no. catalogue no.
120V 50Hz SLOW FAST •/+077-145A-PRAE-C5 078-145J-PRAE-C5 •079-145A-PRAE-C5
120V 60Hz SLOW FAST •/+077-146A-PRAE-C6 078-146J-PRAE-C6 •079-146A-PRAE-C6
120V 400Hz SLOW FAST 077-144A-PRAE-C4 078-144J-PRAE-C4 •079-144A-PRAE-C4
Specifications
Alternate voltage of 240V, use code RR • UL approved file no. E87815
instead of PR. + CSA approved file no. LR52592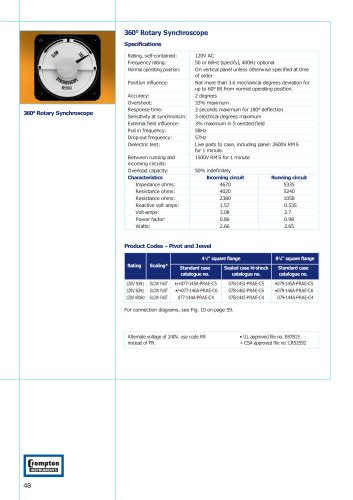 P. 45

43Product Codes – 1-Element, Transformer Rated. 50/60Hz.Taut Band Integral Transducer. (Accuracy 1.0%. 50/60Hz)AC WattmetersProduct Codes –...

P. 46

44Product Codes – Span Accuracy of 1.0%Self-contained for 10 ohm copper or 100 ohm platinum RTD (Resistance TemperatureDetector) - Specify copper...

P. 47

45Elapsed Time MetersProduct Codes – 99,999.99 hours, Non Reset. Burden 2.5VA.50 or 60HzSynchronous motor running time meter with a non resettable...

P. 48

46AC Power Factor MeterAC Power Factor MeterRatings, self-contained: Current windings 5A.Voltage windings minimum 50V, maximum 600VAccuracy: Balanced Load:...

P. 49

47360° Power Factor Meter360° Power FactorRatings, self-contained: Current windings minimum, 0.5A, maximum20A. Voltage windings min. 50-240V,...

P. 51

49Product CodesVoltage: 120, 240, 480 Volts AC or via PTFrequency: 40/65HzBurden @ 60Hz: 4VA maximumSuitable for single or three-phase systemsSafety: IEC1010-1(300V...

P. 52

50DC Transducer IndicatorAC Watt/Watt Hour MeterProduct CodesDC Transducer IndicatorsAC Watt and Watt Hour MetersMoving coil indication gives instantaneous...

P. 53

51FeaturesRugged shock and vibration resistanttaut band designHigh accuracy LED displayWide selection of AC and DC inputsMaximum trend indication visibilityInput...

P. 54

52Product Codes – AC Voltmeters – Direct Reading (40/2000Hz)***(Digital accuracy ±0.1% ±3 counts, analogue accuracy ±1%)LED...

P. 55

53Product Codes – AC Ammeters Transformer Rated (40/2000Hz)(Digital accuracy ±0.1% ±1 counts, analogue accuracy ±1%)LED Digital/Analogue...
Text version
All Crompton Instruments catalogues and technical brochures
Archived catalogues
Protector Trip Relays

52 Pages

Energy KWh Meters

18 Pages